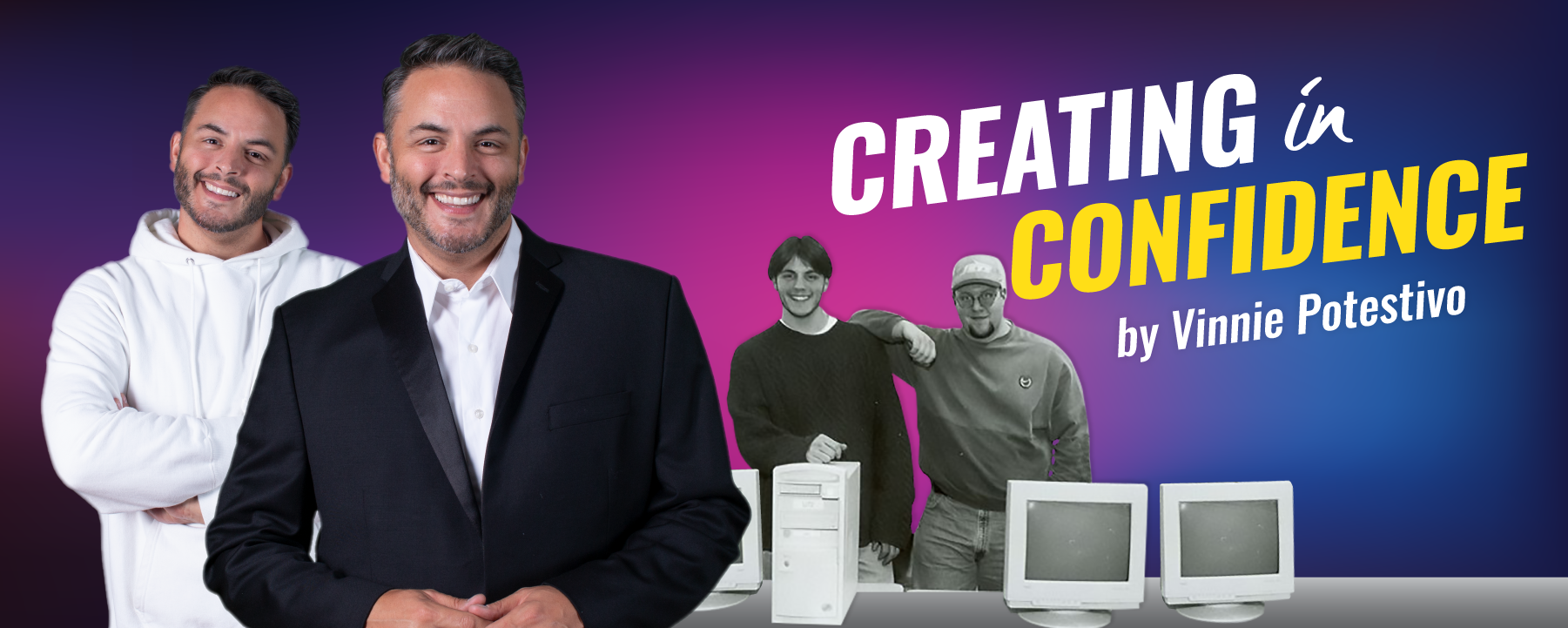 When I pulled up to Harborview Hall with my sturdy HP word processor on my first day at Wagner College, I knew only one thing: I had chosen this small school up on the hill because of its newly installed computer center. Soon after unpacking my brand-new quilt and newly purchased flip-flops, I made my way to Spiro Hall and quickly befriended the small team that helped students troubleshoot their tech issues.

Little did I know that the skill set I was building in Spiro from 1995 onward would help me unlock the creativity that lived within this tech-savvy kid and give me the foundation to launch my career as a media multi-hyphenate. Spreadsheets and databases would quickly turn into show decks, TV pitches, casting calls, and talent "one-sheets" that would be used to propagate and propel the careers of some of the biggest brand names in modern pop culture, including Mandy Moore, Ashton Kutcher, Beyoncé Carter, Jessica and Ashlee Simpson, the Osbournes, "The Challenge" and "Wild 'n Out."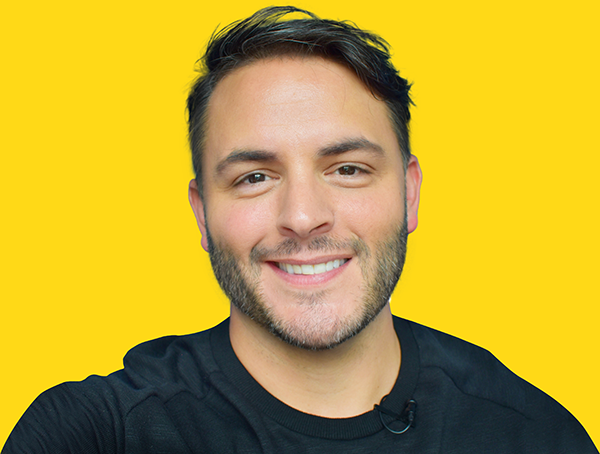 by Vinnie Potestivo
ihaveapodcast.com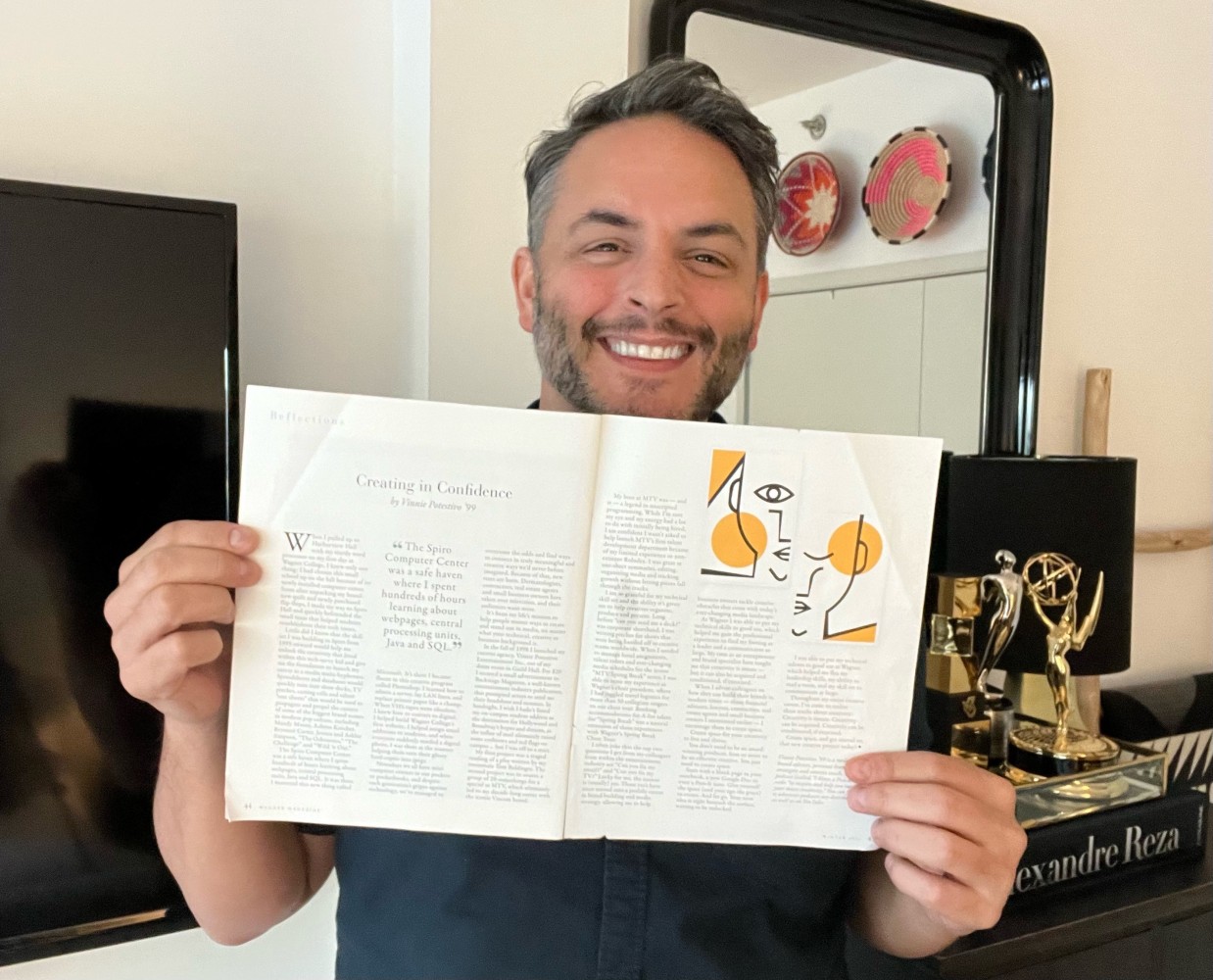 The Spiro Computer Center was a safe haven where I spent hundreds of hours learning about webpages, central processing units, Java, and SQL. It was there I mastered this new thing called Microsoft. It's there I became fluent in this creative program called Photoshop. I learned how to admin a server, lay LAN lines, and replace printer paper like a champ. When VHS tapes went obsolete, I knew how to convert to digital. I helped build Wagner College's first website; I helped assign email addresses to students; and when everyone suddenly needed a digital photo, I was there at the scanner helping them turn their glossy hard copies into jpegs.
Nowadays we all have mini computer centers in our pockets or pocketbooks, and despite each generation's gripes against technology, we've managed to overcome the odds and find ways to connect in truly meaningful and creative ways we'd never before imagined. Because of that, new stars are born. Dermatologists, contractors, real estate agents, and small business owners have taken over television, and their audiences want more.
It's been my life's mission to help people master ways to create and stand out in media, no matter what your technical, creative, or business background is.
In the fall of 1998 I launched my current agency, Vinnie Potestivo Entertainment Inc., out of my dorm room in Guild Hall. For $20 I secured a small advertisement in Backstage Magazine, a well-known entertainment industry publication, that prompted actors to send me their headshots and resumes. In hindsight, I wish I hadn't listed my on-campus student address as the destination for Hollywood and Broadway's hopes and dreams, as the influx of mail ultimately raised some eyebrows and red flags on campus … but I was off to a start.
My first project was a staged reading of a play written by my roommate Tom Baldinger. The second project was to source a group of 20-somethings for a special at MTV, which ultimately led to my decade-long career with the iconic Viacom brand.
My boss at MTV was — and is — a legend in unscripted programming. While I'm sure my eye and my energy had a lot to do with initially being hired, I am confident I wasn't asked to help launch MTV's first talent development department because of my limited experience or non-existent Rolodex. I was great at one-sheet summaries, editing, organizing media, and tracking growth without letting pieces fall through the cracks.
I am so grateful for my technical skillset and the ability it's given me to help creatives organize, produce and present. Long before "can you send me a deck?" was corporate shorthand, I was writing pitches for shows that were being handed off to creative teams worldwide. When I needed to manage hotel assignments, talent riders, and ever-changing media schedules for the iconic "MTV Spring Break" series, I was able to mine my experience as Wagner's choir president, where I had juggled travel logistics for more than 50 collegiate singers on our choir tour. Booking accommodations for A-list talent for "Spring Break" was a natural extension of those experiences with Wagner's Spring Break Choir Tour.
I often joke that the top two questions I get from my colleagues from within the entertainment industry are "Can you fix my email?" and "Can you fix my TV?" Lucky for me, the answer is (usually) yes. Those yes's have since turned into a prolific career in brand building and media strategy, allowing me to help business owners tackle creative obstacles that come with today's ever-changing media landscape.
At Wagner I was able to put my technical skills to good use, which helped me gain the professional experience to find my footing as a leader and a communicator at large. My time as an entrepreneur and brand specialist has taught me that creativity can be innate and acquired.
When I advise colleagues on how they can build their brands in modern times — those financial advisors, lawyers, contractors, real estate agents, and small-business owners I mentioned earlier — I encourage them to create space. Create space for your creativity to live and thrive. You don't need to be an award-winning producer, host, or artist to be an effective creative. You just need to create space.
Start with a blank page in your notebook, a new Google Doc or even a Post-It note. Give yourself the space (and your ego the grace) to create. And let go. Your next idea is right beneath the surface, waiting to be unlocked.
I was able to put my technical talents to good use at Wagner, which helped me flex my leadership skills, my ability to read a room, and my skill set to communicate at large.
Throughout my entire creative career, I've come to realize three truths about creativity: Creativity is innate. Creativity can be acquired. Creativity can be conditioned if exercised.
Create space, and get started on that new creative project today!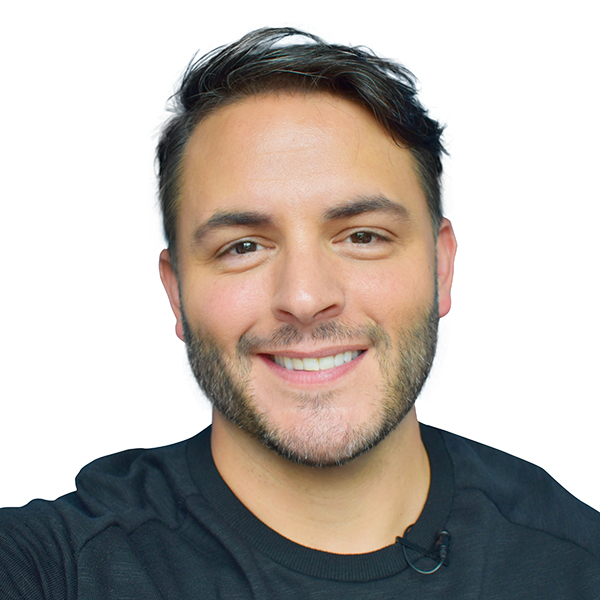 Vinnie Potestivo is an Emmy Award-winning media brand advisor, personal brand strategist, and content coach. He is a well-trusted connector who creates, develops, produces, distributes, amplifies, and helps to monetize some of the most talked-about brands in modern pop culture. 
As host of I Have A Podcast, his goal is to inspire your creative potential.