Bippity. Boppity. Business. 🧚 Those are 3 words you have never heard together... until today. 😉 I am the host of Bippity Boppity Business, a podcast where I interview former Disney cast members and enthusiasts. I started the podcast because I am fascinated by the way Disney runs their business. I dive deep into topics such as leadership, the customer experience, storytelling, and project management to understand how Disney injects wonder through its work. 🏰 "If you can dream it, you can do it." - Walt Disney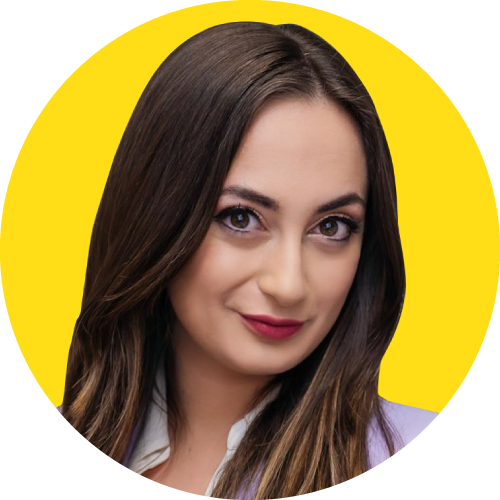 Share an experience that has shaped who you are today.
Earlier in my career, I worked at Tesla and BMW. I got to drive cool cars and interact with some amazing customers. Between my time at Tesla and BMW, I have helped 3,000+ customers with their concerns. I learned how to deliver an exceptional world-class experience for customers and it taught me the reason why the brands have the recognition that they do among consumers. It's something I have carried with me to this day. 🏎 My more recent background is in production, podcasting, and content marketing. 🎙 I worked at Sweet Fish Media for 2 years where I managed 13 B2B podcasts within the SaaS, Fintech, Marketing, Manufacturing, and technology spaces. I produced deliverables (micro-videos, graphics, written content, social media) for 300+ episodes. I helped my clients determine the "why" behind their podcasts. Once my clients became clear of their goals, I worked my magic🪄to execute and stay true to their creative vision. I collaborated with a team of videographers, graphic designers, writers, and social media specialists to produce podcast episodes that my clients loved. ❤‍🔥 I value building relationships because I realize how instrumental they are to the success of projects. Building relationships with my clients has allowed me to understand their needs on a much deeper level.
Tell us about your podcast audience.
Our host, Rita, identifies as a former theatre kid thrown in to the world of business and B2B. We encourage our listeners to find the wonder in their work and inspire them to take their business skills to the next level. They come back to hear from leading experts in the entertainment, creative, and film industry, to learn how show business can translate to their industry of business. Educational, inspirational, yet a little silly and fun, Bippity Boppity Business is a valuable and entertaining podcast for any business leader looking to learn while having a break in their business day. "With every job that must be done, there is an element of fun! You find the fun, and SNAP, the job's a game!" - Mary Poppins
What makes your podcast unique?
Bippity Boppity Business is an educational podcast with a fun Disney twist. We dive into topics like branding, business operations, culture, technology, innovation and more. It is unique because we are providing and immersive experience and new angle to commonly discussed business ideals and best practices. But we also network a bit at the end and talk about our shared Disney affinities like parks or movies.
Why The Customer is the Hero of Your Brand Story (And Not You) w/ Cassie Tucker
One of the most common pitfalls that businesses make online is when they make everything about them. Every piece of content they post is about their story, their products, or what they can do, when it should be the opposite. 
Instead, your customer should be the hero of the journey. Your business exists because you are there to help them solve a problem, but you are merely the guide. You are Mushu, not Mulan. Genie, not Aladdin. Olaf, not Elsa. You'll have your moments, but everything you do should be in service of your customer. 
In this episode of the Bippity Boppity Business, CAMM Media's founder and Co-Host of the Marketing Happy Hour Podcast, Cassie Tucker talks about the power of storytelling, leading with empathy, and maintaining a positive customer experience.
Cassie also gives us a crash course on the Storybrand Framework, demonstrates how she would rebrand Hades from the movie Hercules, and talks about why we all need to feel that we're part of something bigger than ourselves.
Rita Richa and Cassie have a magical discussion about:
How we can apply the Hollywood storytelling formula to business
Why the customer should be the hero of the story, not the brand
Why your personal brand needs to align with who you are as a person 
How Cassie would rebrand Hades from Hercules (1997)
How to turn pain points into a selling point, creating a what-if scenario and making your customers feel like they need your solution as a business owner 
How perception is important, but you also need to follow through on your promises and ensure that the experience is always positive 
Why you and your team should know how to lead with empathy, even in distressing times 
Why leadership needs to make their employees feel that they are part of the same higher purpose, story, and mission 
Why people who started their careers in customer service often make excellent marketers 
Cassie's insights on marketing, storytelling, leadership, and empathy are especially helpful for smaller businesses and brands looking to establish themselves in their respective niches. Take a moment to process her insights to see how you can apply her advice to your own business and reach new levels of success! 
Tune in to every conversation about making magic in business on Apple Podcasts, Spotify, and Google! Leave a rating and review so we can keep making magic!
Listening on a desktop & can't see the links? Just search for Bippity Boppity Business in your favorite podcast player.
Connect with Rita
Visit her website: https://bippityboppitybiz.com
Connect with her on LinkedIn: www.linkedin.com/in/ritaricha
Do you have a podcast you want to create, rebrand, or grow? Discover Rita's NEW podcast consulting company, Reignite Media. Be sure to stick around for the Disney Rapid Fire Questions segment! You definitely won't want to miss Dan's creative answers!
Do you wish to connect with our special guest?
Connect with Cassie Tucker 
Cassie's LinkedIn: https://www.linkedin.com/in/cassaundrapalmer/
Cassie's Instagram: https://www.instagram.com/cassiejoytucker/
Cassie's Website: https://cammmedia.com/
Cassie's Podcast (Marketing Happy Hour): https://podcasts.apple.com/us/podcast/marketing-happy-hour/id1588397602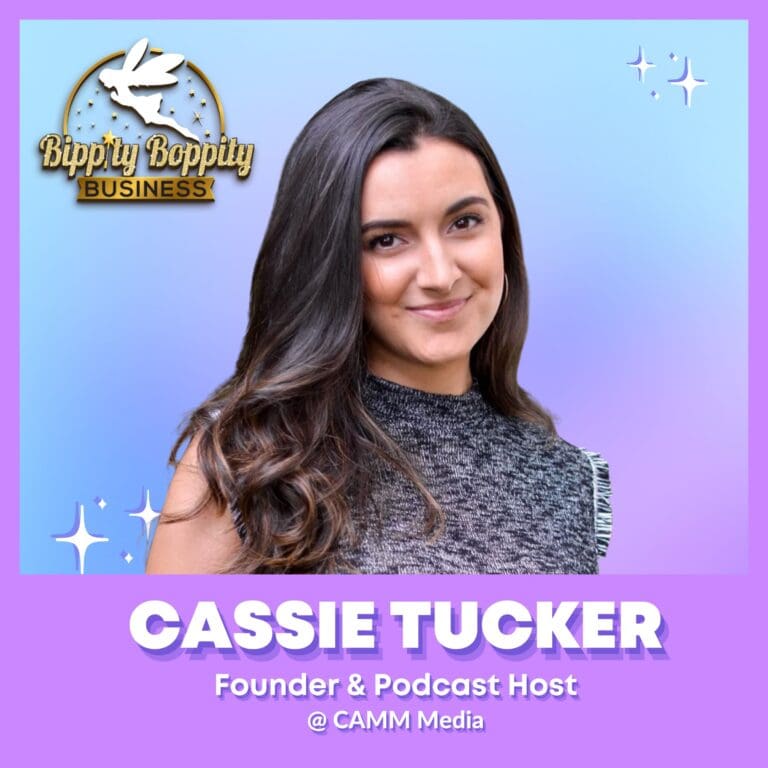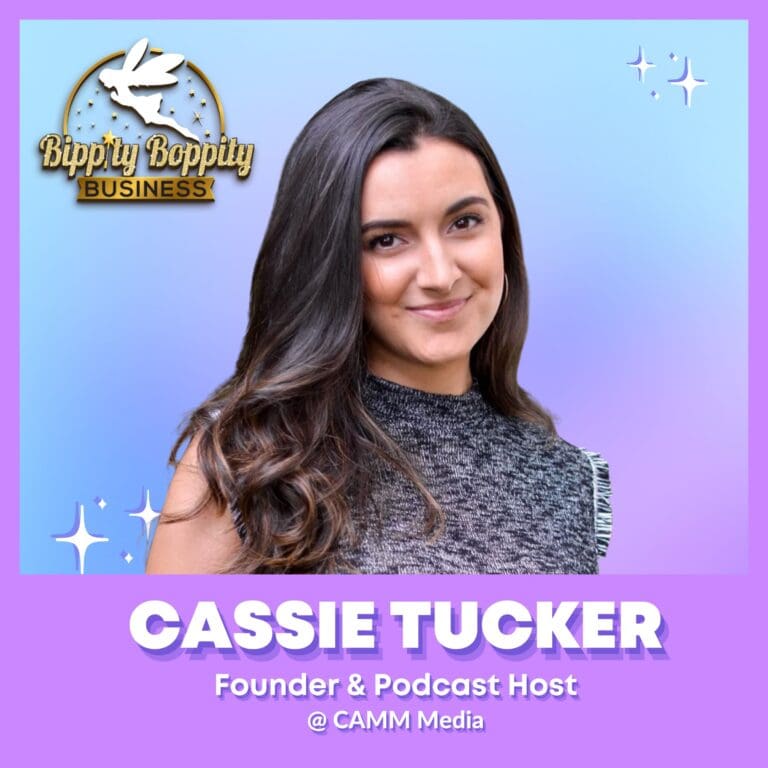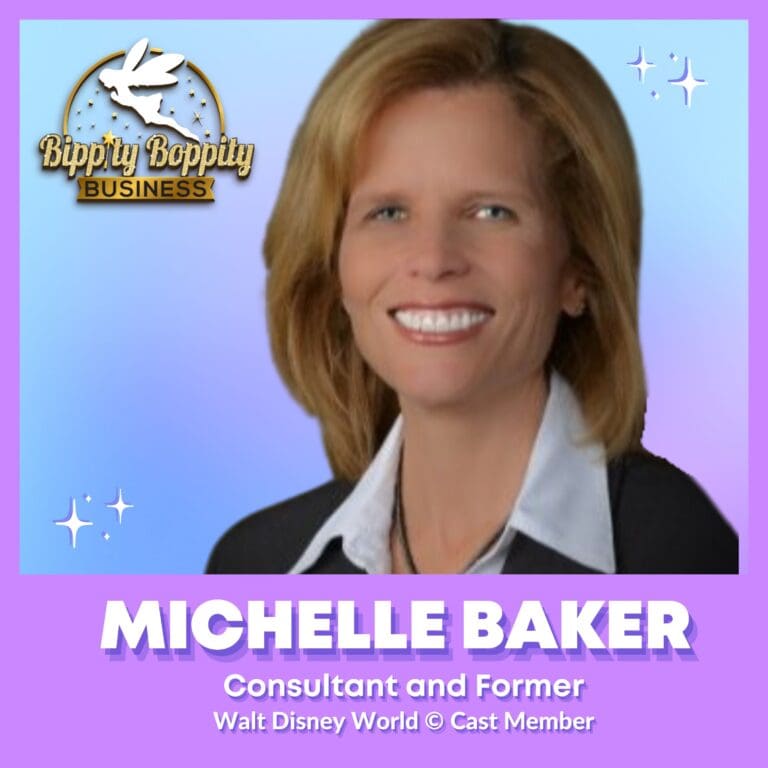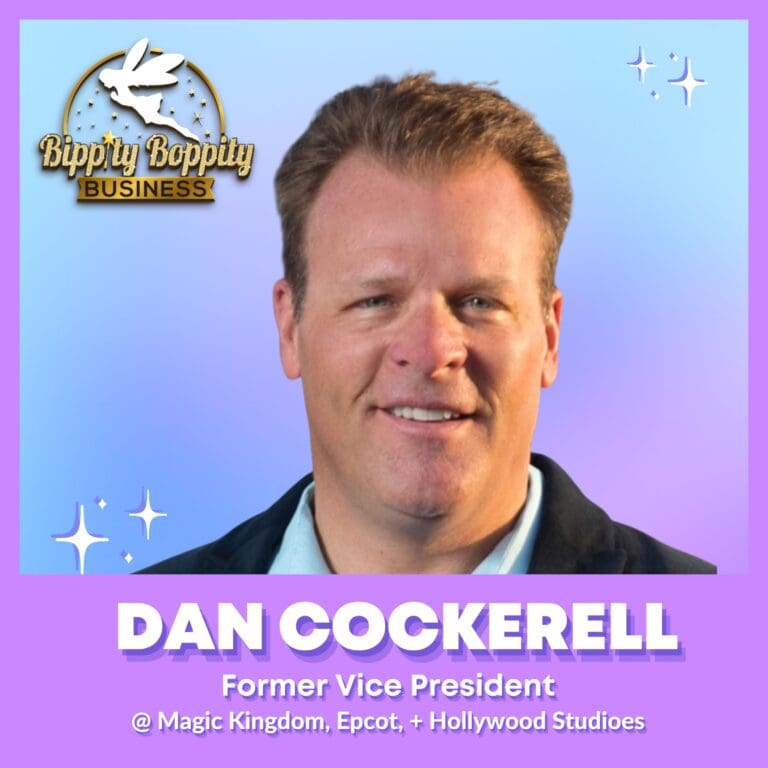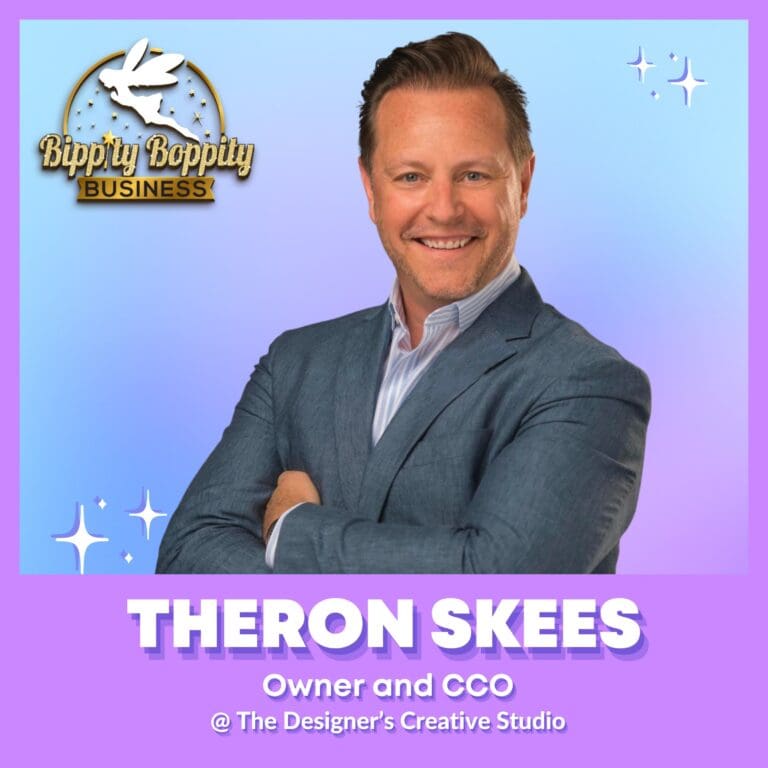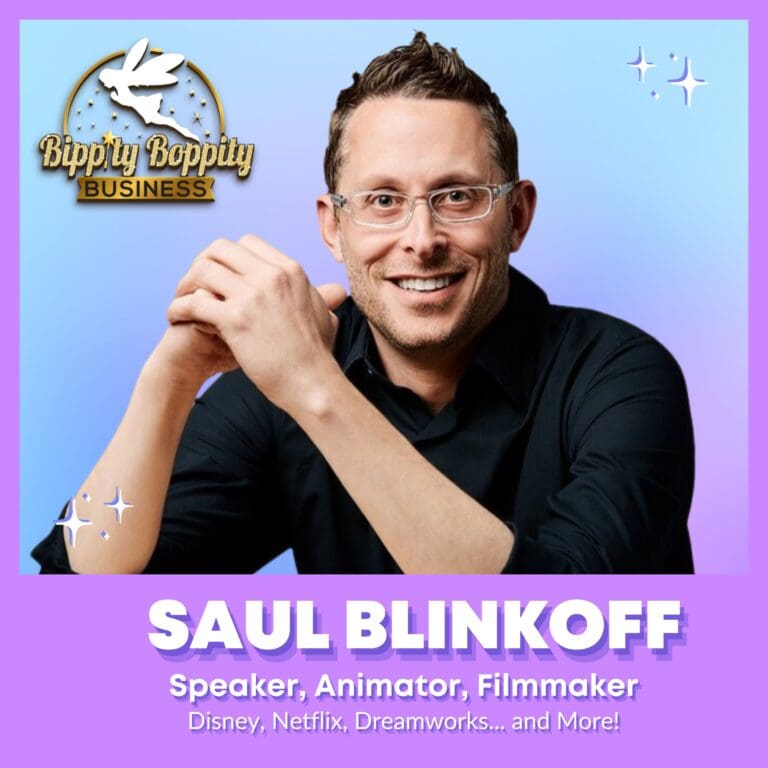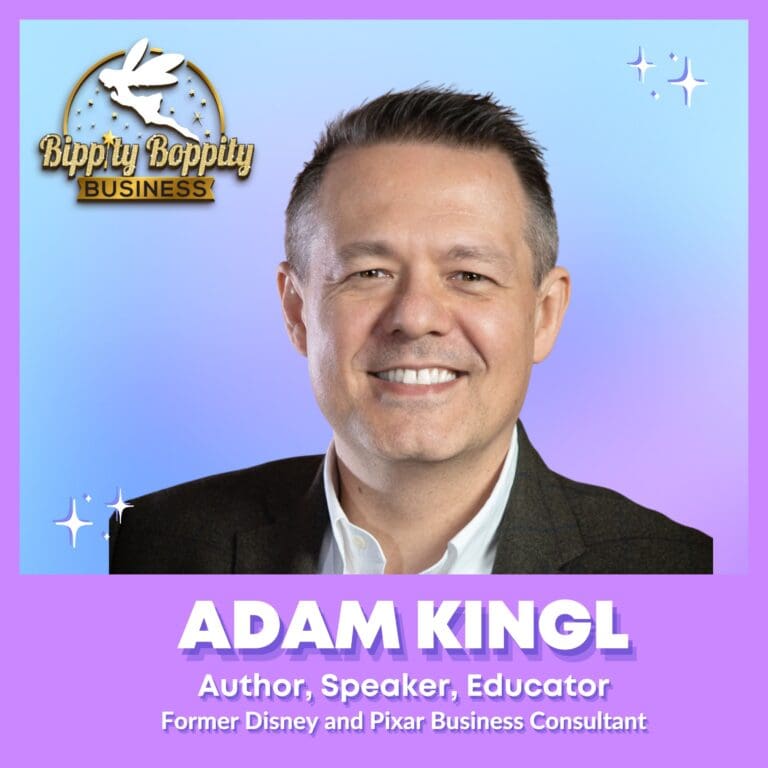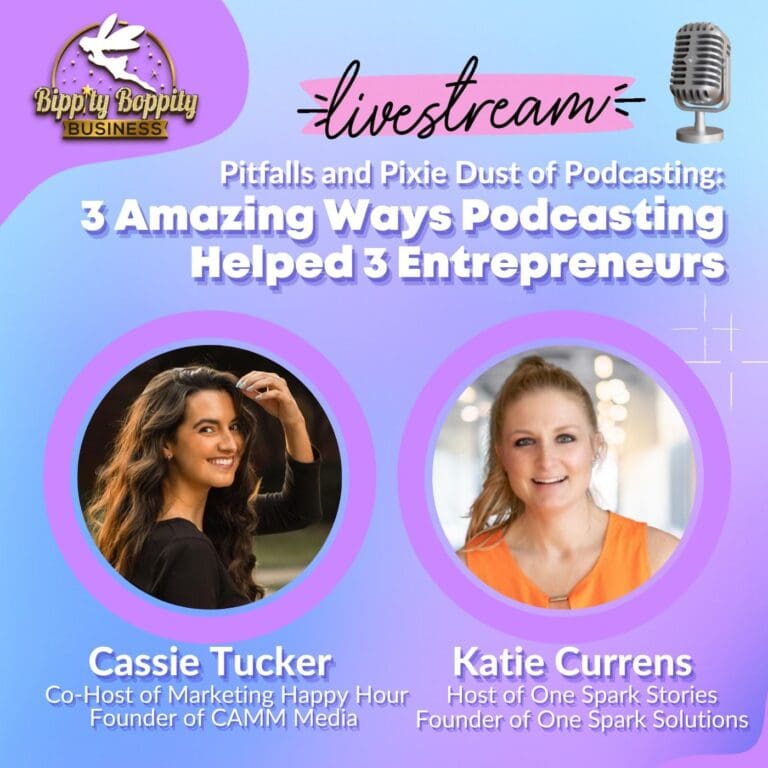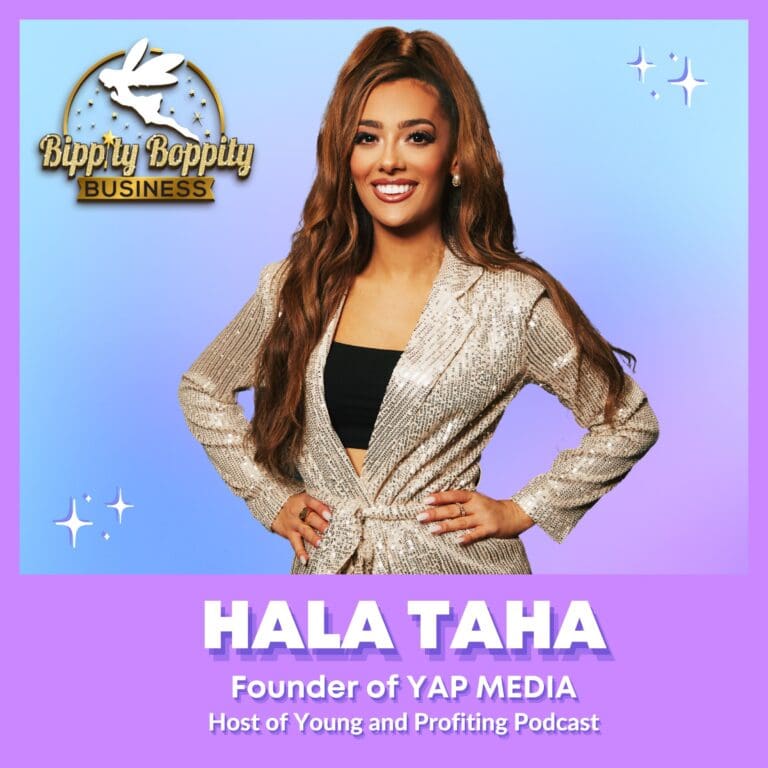 Search Results placeholder