I am Mike Leon, the host of the 'Can We Please Talk?' podcast. I have worked in television & radio for close to 22 years, from ESPN to Fox News to HBO, in roles from production to programming to product. I started this show in late 2020 after hearing some of the wildest things come out of relatives mouths with respect to news & information they consume and wanted to do something about it as a former news producer. Started this show with a college friend of mine (who was a former local radio host in NJ), and we built out a program that now features award-winning journalists, former & current govt officials, best-selling authors, historians, legal analysts & more. Our tagline is - "We talk to people who know what they're taking about!" I'm proud of the show and glad we are adding to the news & politics discourse out there in the podcast space.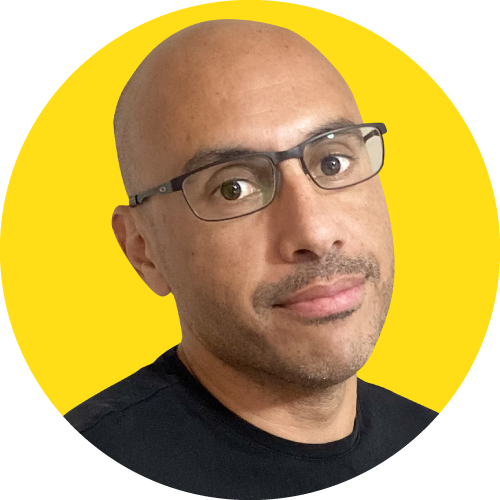 Share an experience that has shaped who you are today.
I learned a valuable lesson recently not only that applies to corporate America, but hobbies in general. Never, EVER, let anyone tell you you can't do something in your spare time. In June of 2021, I was working at VEVO on their product team. A former VP there (her name was Bernarda) found out I was leaving and asked me why. Told her I got a new job and also they are going to let me host a sports show on their platform (which I still do on Theanalyst.com). She goes, and I quote, "that's cool, I mean you obviously weren't that busy here if you had time to do that little (Can We Please Talk?) podcast". To which I replied "oh, you must not know how hobbies work, I do that show on nights & weekends, so NOT during work hours…." Proud to say since that comment, I have started my own company, am working with an agent and production company on a docu series potentially coming to a streaming service, employ 3 people under my company, have spoken with NPR & DCP about content creation & programming, and Can We Please Talk? reach #125 in America for news commentary this past month. Not bad for a "little" thing.
Tell us about your podcast audience.
I love our audience, each week/month it grows more and more. We have people in that 35-55 demo, college educated, but that want a full debrief of an issue or topic, similar to like John Oliver's show, but with informed experts on the situation. You know, myself and my co host are not lawyers, so why would we comment on the legal troubles of fmr. President Trump. But we have a former DOJ official on to discuss it. The rise of LIV golf vs the PGA Tour. I worked for the Tour, but, we bring on a famous golf journalist & author of a Tiger Woods book (Robert Lusetich) to break down the topic. I think people keep coming back because we add to the perspectives, we add to your overall perspective on a topic.
What makes your podcast unique?
Our pod is really around News, society, culture, politics. Anything making headlines. I built the show just like I would when I worked at a network - 3 segments, one featuring a guest, ad breaks (s/o our sponsors haha) and just thoughtful, insightful, research conversation. There are tons of pods out there in this space that pick sides and placate to audiences because they know they can make money off of it. I don't care about money. My new job, which I love, not only pays me, but supports my show and has helped me with press, etc. We are unique because we are cutting through the noise, bringing news with stats & insights, and an understanding of media literacy that we want our audience leaving with. You shouldn't be turning to us SOLELY for your news, but you will want to add us to that rotation, I guarantee it.