From Traditional to Digital: Janet McMordie's Guide to Thriving on Social Media
Are you an actor or creative struggling to make the leap from traditional media to the ever-evolving world of social media?
Have you been told that simply posting random content and hoping for engagement is the way to go?
Well, if you've been following that advice, you're probably feeling the frustration of limited reach and stagnant career growth. It's time to break free from ineffective actions that only lead to disappointment.
My Special Guest is Janet McMordie
Say hello to Janet McMordie, a woman of many talents. Not only is she a renowned medical doctor, but she is also an accomplished actor, threading these two seemingly contrasting fields together seamlessly.
Her genius doesn't end there. Janet took it upon herself to conquer the complexities of the digital space, effectively managing the shift from traditional media to social media within the creative industry.
As the force behind 'Second Act Actors,' Janet is a testament to the power of multidisciplinary proficiency.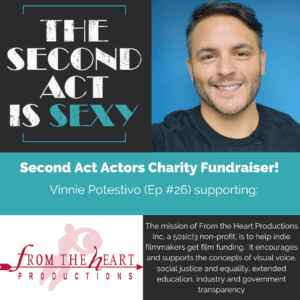 Reality TV may have discredited me as a serious actor, but I survived and proved them wrong. Don't let anyone tell you what you can or can't achieve in your career. – Janet McMordie

In this episode, you will be able to:
Unravel the complexities involved when shifting from traditional to digital media.

Uncover the power of social media in shaping the lives of actors and creative minds.

Appreciate why unscripted programming is garnering significant audience attention.

Learn from riveting narratives of personal growth and career triumphs.

Understand why being your own brand ambassador is vital in the creative field.
The resources mentioned in this episode are:
Visit ihavapodcast.com to discover and connect with opportunities that can grow your career as an independent creator.

Grab your favorite notebook and jot down these actionable insights on online promotion and boosting your project's visibility.

Join the I have a podcast community on LinkedIn.

Share what you learned from this episode on any social media platform using the hashtag I have a podcast, especially on LinkedIn.

Check out Second Act Actors hosted by Janet McMordie to dive deep into the art of promotion and gaining traction in the digital landscape.

Explore the incredible potential of podcasting as a medium in media that has revolutionized what it means to be talented.

Connect with Vinnie Potestivo for marketing and brand development services for actors and creatives in the new technology and social media age.

Learn how to promote yourself as an actor or creative in an exciting and beautiful way in the industry's social media age.

Discover the keys to taking your creative journey to new heights by listening to the episode from Second Act Actors with Vinnie Potestivo.

Appreciate the enthusiasm and generosity of Vinnie Potestivo as he shares his insights and experiences in the podcast
The Key Moments in this Episode are:
[1:02] Getting out of my head: My favourite thing about acting
[2:26] Vinnie's life story: From MTV to launching Beyoncé
[4:55] Beyoncé's hip-hopera audition
[6:08] Moving into unscripted TV with Punk'D
[7:24] Why Vinnie loves working with actors on unscripted TV
[8:38] Being part of the process of character development and selling an actor to a producer
[10:32] The controlled chaos of MTV in the early 2000s and how it transitioned into a more curated look in The Challenge
[13:20] What social media has done to reality TV
[14:20] Yes there's manipulation in reality TV, but not for the reason you think
[16:20] Vinnie's childhood and the huge technology transformations we experienced from 1995 – 2007
[19:38] "You have rights that you didn't have before": Vinnie explains how the way that we distribute content today gives more power to creators
[23:37] Vinnie's tips on promoting yourself as a creative product: Vinnie's tip #1: Apply for awards
[27:25] Vinnie's tip #2: Claim your credits and get into podcasts
[29:21] Vinnie's secret on how to boost your podcast on Google
[30:50] Vinnie's tip #3: Maximise your discovery on IMDb
[31:55] Vinnie's tip #4: Think about your red carpet moments
[33:22] Vinnie's tip #4: Amplify your distribution
[36:31] Actors suck at self-promotion!
[37:41] Grab on to new tools to improve and share your content
[39:07] Collaborate and create, in a way that uses your gifts
[44:45] "Podcasts are TV pilots": Vinnie on the potential of podcasts
[46:37] The meaning of talent is different now
[47:37] Creatives have the burden of explaining what it's like to work with creatives
[49:40] Every career should have a second act
[51:03] Create your project, then get in touch with Vinnie
[52:25] It feels like it's a secret, but it shouldn't be
[53:30] What it looks like to be a liberated, successful creative
Hidden Value of Unscripted Programming
Unscripted programming presents a unique set of opportunities in the creative industry. It allows creatives to express themselves freely without the constraints of a set script.
Podcasts are a perfect example of this, providing a platform for actors to showcase their work, gain recognition, and connect with interested individuals.
This format can be an appealing and effective avenue for self-expression and promotion.
– – – – – – – – – – – – – –