Week of September 3, 2023
Top 5 Indie Career Podcasts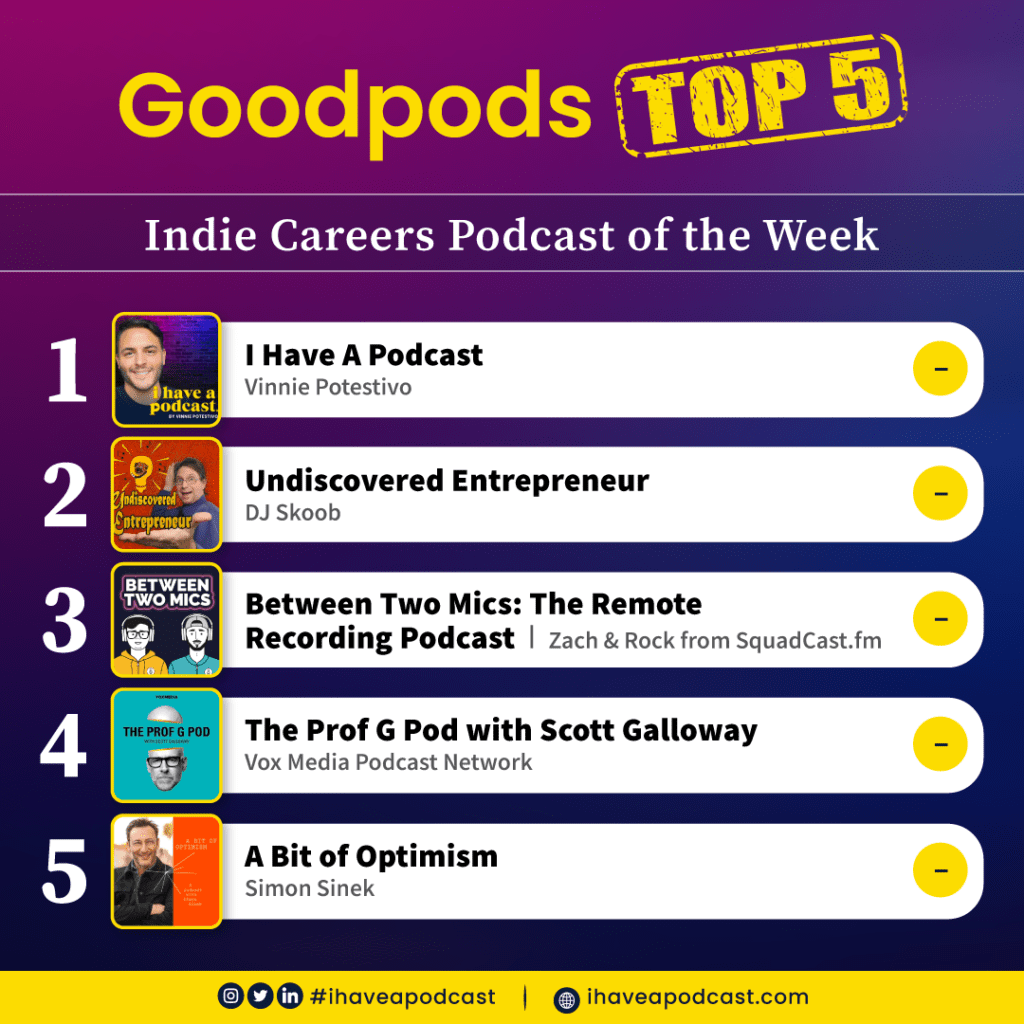 Who says careers should be all work and no play? Not us! We're shaking things up with a collection of podcasts that bring a fresh spin to the world of careers. These aren't your typical corporate talks or bland how-to guides. Nope, we're talking about real, raw, and authentic conversations that peel back the curtain on the careers we crave.
Picture this: you, your earbuds, and some of the most intriguing voices out there. From entrepreneurs who've faced more plot twists than a Netflix series to professionals who've cracked the code to work-life balance, these podcasts are here to fuel your career journey.
Why indie, you ask? Because indie podcasters are the rockstars of unfiltered storytelling. They're the rebels who carve their path and bring you content straight from the heart. You won't find this level of authenticity anywhere else.
So, whether you're hustling in the 9-to-5 world, charting your own entrepreneurial adventure, or just curious about the inner workings of different industries, these podcasts have something for you. We're talking inspiration, practical tips, and a whole lot of "aha" moments.
Huge shoutout to the incredible hosts who put their all into these shows. And to you, our kickass listeners, thank you for being part of this journey. So crank up the volume, hit that play button, and let's dive into the Top 5 Indie Career Podcasts together!
Stay curious, stay bold, and as always, stay indie.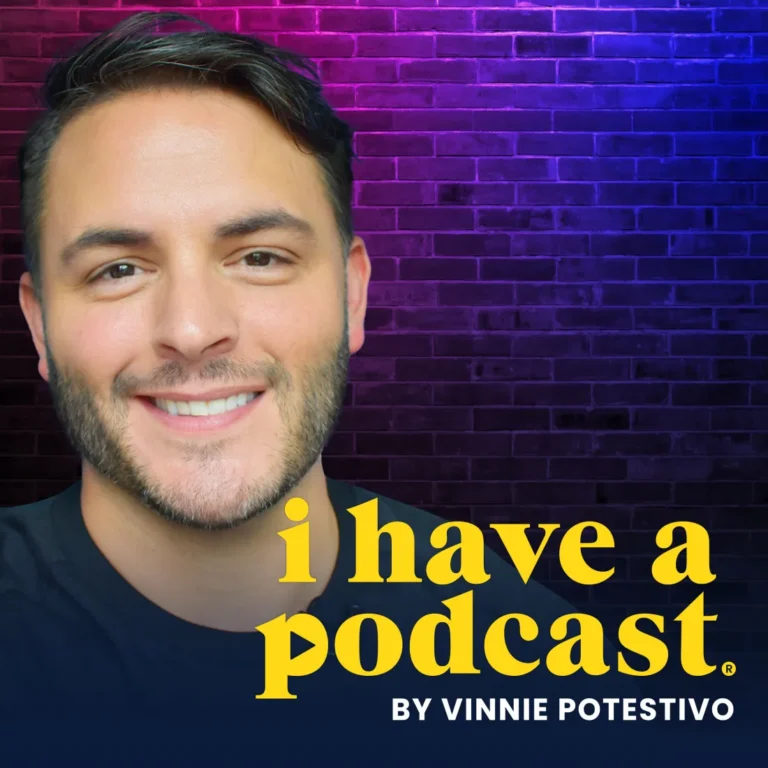 Get creative insights and business outcomes that make impact and generate income from Emmy Award-winning Brand Advisor, Vinnie Potestivo, as he explores the successes and stumbles behind today's Creator Economy – with guests like Mandy Moore, SuChin Pak, Christina Milian, Jamie-Lynn Sigler, as well as Top Business Strategist for LinkedIn Creators and co-host, Judi Fox.
Listen to I Have A Podcast® and learn: How to take your brand to the next level, Ways to get discovered and stay visible, Content systems that deliver results, Original development and distribution strategies, Building a creative content team, and Monetizing your personal brand.
A "must-listen" for any brand or business owner looking to leverage the creator economy to make an impact. ihaveapodcast.com for more exclusive content.
From Traditional to Digital: Janet McMordie's Guide to Thriving on Social Media
Are you an actor or creative struggling to make the leap from traditional media to the ever-evolving world of social media? Have you been told that simply posting random content and hoping for engagement is the way to go? Well, if you've been following that advice, you're probably feeling the frustration of limited reach and stagnant career growth. It's time to break free from ineffective actions that only lead to disappointment.
My special guest is Janet McMordie
Say hello to Janet McMordie, a woman of many talents. Not only is she a renowned medical doctor, but she is also an accomplished actor, threading these two seemingly contrasting fields together seamlessly. However, her genius doesn't end there. Janet took it upon herself to conquer the complexities of the digital space, effectively managing the shift from traditional media to social media within the creative industry. As the force behind 'Second Act Actors,' Janet is a testament to the power of multidisciplinary proficiency.
Reality TV may have discredited me as a serious actor, but I survived and proved them wrong. Don't let anyone tell you what you can or can't achieve in your career. – Janet McMordie
In this episode, you will be able to:
Unravel the complexities involved when shifting from traditional to digital media.

Uncover the power of social media in shaping the lives of actors and creative minds.

Appreciate why unscripted programming is garnering significant audience attention.

Learn from riveting narratives of personal growth and career triumphs.

Understand why being your own brand ambassador is vital in the creative field.
The resources mentioned in this episode are:
Visit ihavapodcast.com to discover and connect with opportunities that can grow your career as an independent creator.

Grab your favorite notebook and jot down these actionable insights on online promotion and boosting your project's visibility.

Join the I have a podcast community on LinkedIn by going to podcast.

Share what you learned from this episode on any social media platform using the hashtag I have a podcast, especially on LinkedIn.

Check out Second Act Actors hosted by Janet McMordie to dive deep into the art of promotion and gaining traction in the digital landscape.

Explore the incredible potential of podcasting as a medium in media that has revolutionized what it means to be talented.

Connect with Vinnie Potestivo for marketing and brand development services for actors and creatives in the new technology and social media age.

Learn how to promote yourself as an actor or creative in an exciting and beautiful way in the industry's social media age.

Discover the keys to taking your creative journey to new heights by listening to the episode from Second Act Actors with Vinnie Potestivo.

Appreciate the enthusiasm and generosity of Vinnie Potestivo as he shares his insights and experiences in the podcast
The key moments in this episode are:
00:00:04 – Introduction,
00:00:58 – Importance of Online Promotion,
00:01:37 – Join the Conversation,
00:02:04 – Introduction to Janet McMordie,
00:02:43 – Vinnie Potestivo's Career at MTV,
00:04:14 – Transition to Marketing and Brand Development,
00:05:17 – Interview with Vinny Potestivo,
00:15:31 – The Impact of Reality TV,
00:17:15 – The Evolution of Reality TV,
00:18:31 – The Influence of Social Media,
00:22:31 – Childhood and Early Interest in Creativity,
00:26:43 – The Changing Landscape of Creativity,
00:30:51 – The Power of a Strong Performance,
00:31:39 – Balancing Artistic Vision and Industry Control,
00:32:25 – The Importance of Awards and Credits,
00:37:03 – Red Carpet Moments and Distribution,
00:41:39 – Actors and Self-Promotion,
00:45:37 – Working with Mandy Moore at a Young Age,
00:46:38 – Mandy Moore's Directing Journey,
00:47:20 – The Importance of Audience and Creativity,
00:49:13 – Overcoming Insecurities and Creating Freely,
00:50:14 – The Power of Podcasting and Audio Creativity,
00:59:57 – The Liberating Power of Creativity,
01:00:33 – Chasing Success vs. Embracing the Journey,
01:01:06 – The Role of Agents and Money,
01:01:23 – Genuine Connection and Appreciation,
01:02:31 – Encouragement and Positivity,
Hidden Value of Unscripted Programming
Unscripted programming presents a unique set of opportunities in the creative industry. It allows creatives to express themselves freely without the constraints of a set script. Podcasts are a perfect example of this, providing a platform for actors to showcase their work, gain recognition, and connect with interested individuals. This format can be an appealing and effective avenue for self-expression and promotion.
– – – – – – – – – – – – – – 
👉 JOIN OUR COMMUNITY: https://vpe.tv/ihaveapodcast
👍 GET MORE CONVERSATIONS LIKE THIS: https://ihaveapodcast.com
⭐️ LEAVE US A REVIEW & HELP US GROW: https://vpe.tv/ratethispodcast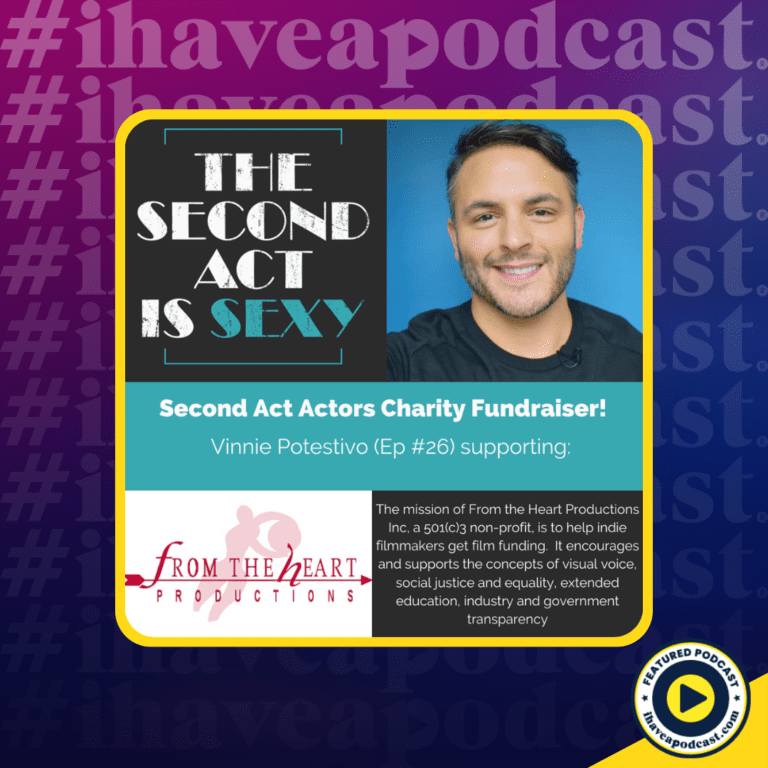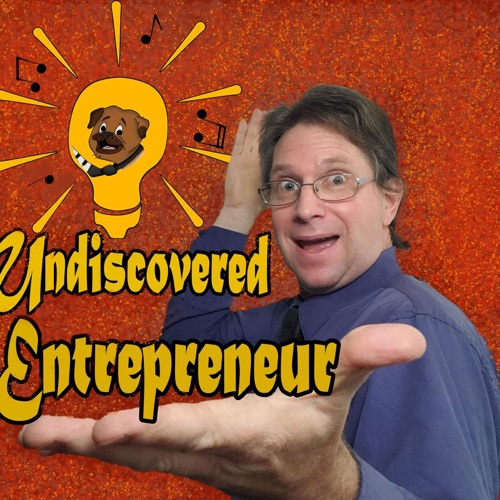 Undiscovered Entrepreneur
A Podcast of brand new entrepreneurs and start-ups that are less then a year in their adventure just waiting to be discovered by you!
Learn from regular business owners that are in the same starting line as you.
Listen as they talk about their experiences, Failures, And what goals they have set for themselves for the next 6 months.
Then we will follow up with them and see if they have reached their goal and what they have learned.
From Beats to Business: A Tale of DJ Scoob's Transformation
You'll hear about my mentors, both virtual and in real life, who shaped my entrepreneurial journey. Plus, how I learned to appreciate failures as a stepping stone to success. I'll share insights from my own coaching experience, the satisfaction of helping others navigate their path, and why failing at my DJ business was the best thing that happened to me. If you're contemplating the leap into entrepreneurship, get ready for a dose of realness with a side of inspiration. Also, look out for my free giveaway of AI prompts to get your creative juices flowing and details about my upcoming live group coaching. Join me and the Skoobelievers for an inspiring conversation that will get you fired up for your own entrepreneurial journey.
Join the community that I am proud to be a part of. Get help with your entrepreneurial adventure from like minded creatives that are amazing and willing to help. If you are a podcaster, musical talent , or artist, we have a place you you here. Join now by clicking here tuepodcast.net/lab for a 14 day free trial to see how we can help you achieve your goals.
Pinnacle AI is a all in one software to post and gain followers and develop community's using an AI to help with your best options of when and ware to post your amazing content!
Thank you for being a Skoobeliever!! If you have questions about the show or you want to be a guest please contact me at one of these social medias
Twitter……… ..@djskoob2021
Facebook………Facebook.com/skoobami
Instagram….. instagram.com/uepodcast2021
tiktok……. @djskoob2021
Email…………… Uepodcast2021@gmail.com
If you would like to be coached on your entrepreneurial adventure please email me at for a 2 hour free discovery call! This is a $700 free gift to my Skoobelievers!! Contact me Now!!
On Twitter @doittodaycoach
doingittodaycoaching@gmailcom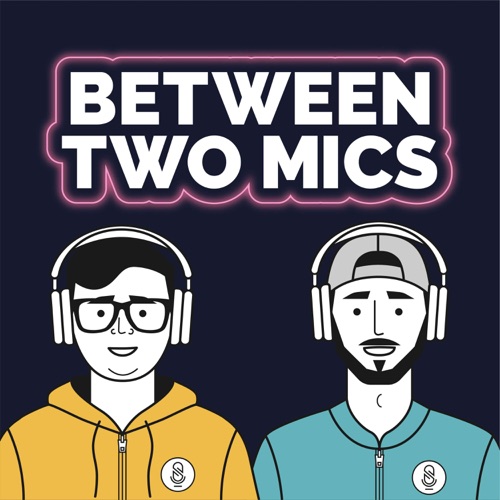 Podcasting is actively being defined. Between Two Mics: The Remote Recording Podcast is talking with the people who are defining it.
We're exploring challenges, opportunities, and new ideas that push the limits of what's possible in podcasting.
Hosted by SquadCast's co-founders, Zach Moreno and Rock Felder, Between Two Mics is for the professional podcaster, the aspiring podcaster, and everyone in between.Let's get Between Two Mics!
Introducing: SquadCast…by Descript: We've Been Acquired!
Big news from SquadCast HQ today: we've been acquired by Descript! In this episode, SquadCast head of community and content Arielle Nissenblatt interviews SquadCast co-founders Zach Moreno and Rock Felder about the acquisition, how it came about, what it means for podcasters, and so much more.
Tune in to learn about:
How SquadCasters can access Descript
What our new roles at Descript will entail
How to join the Descript community
What this news means for remote recording
Thank you to everyone who has submitted their podcasts to be featured on the SquadCast Podcast over the years. We couldn't have done it without you and we so appreciate that you trust SquadCast with your content creation. 
Credits:
Written by Arielle Nissenblatt
Produced and edited by Arielle Nissenblatt 
Hosted by Zach Moreno and Rock Felder
Recorded on SquadCast.fm
Edited in Descript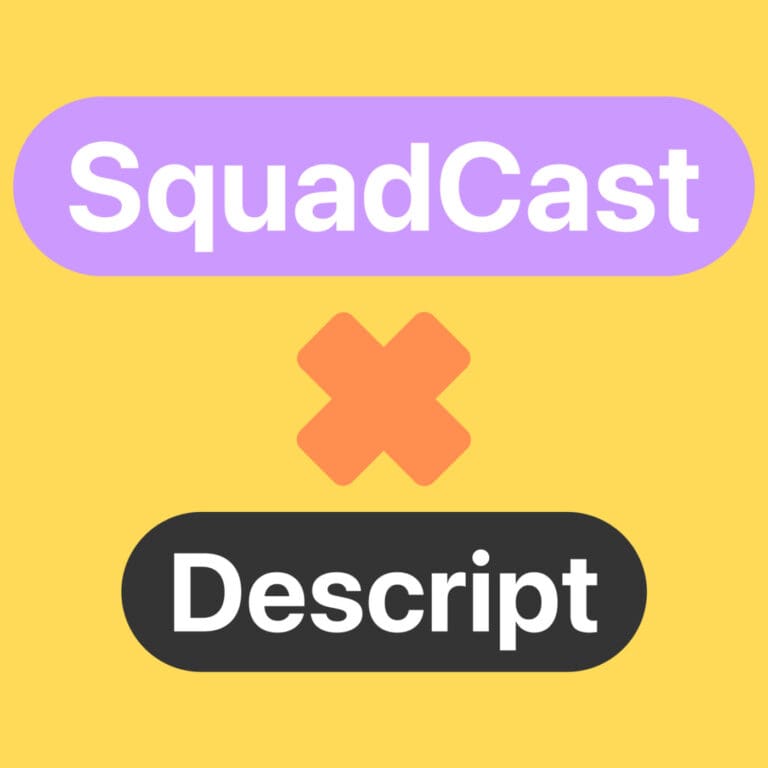 The Prof G Pod with Scott Galloway
Bestselling author, professor and entrepreneur Scott Galloway combines business insight and analysis with provocative life and career advice.
On Mondays, Prof G Markets breaks down what's moving the capital markets, teaching the basics of financial literacy so you can build economic security.
Wednesdays, during Office Hours, Scott answers your questions about business, career, and life.
Thursdays, Scott has a conversation with a blue-flame thinker in the innovation economy.
And Scott closes the week on Saturdays with his Webby Award–winning newsletter, No Mercy / No Malice, as read by actor and raconteur George Hahn.
To resist is futile…
No Mercy / No Malice: Think Bigger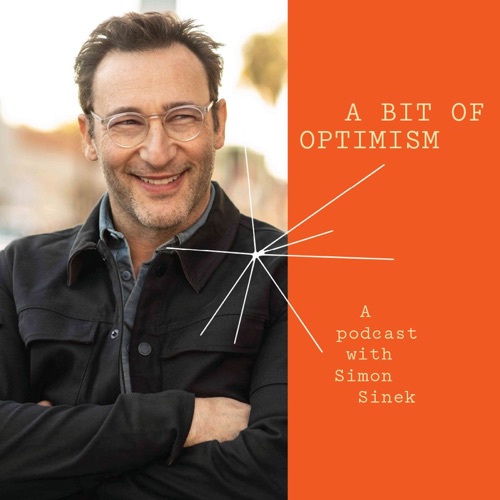 During these times, we are all having to find new ways to connect.
Join me every week as I talk with people that inspire me, about love, life, leadership, and silver linings.
The hope is that we all leave with something I think we need these days… A Bit of Optimism.
How do people become powerful? Can understanding power protect us from those who wield it too strongly?
When Robert Greene first set out to write about power, he didn't have much of it. He worked odd jobs and was largely at the mercy of other people's power. Now, his book "The 48 Laws of Power" has given him the power he wrote about. He sat down with me to share what he's learned on both sides of that spectrum.
This… is a Bit of Optimism.
For more on Robert and his work, check out:
Are you an independent podcaster looking to get featured?