Unlocking Your World of Creativity
Iam a Brand Innovator – an experienced marketer, a venture catalyst, and a skilled group facilitator. My work has included market assessment, branding, and marketing strategy for health, science, and technology products in pharmaceuticals, diagnostics, medical devices, provider networks, and clinical research tools. But what I really do is help people think more creatively, break down barriers, and have more fun at work!
I'm a frequent speaker, trainer, and facilitator for sales meetings, advisory boards, and strategy workshops. I have published of four business books, Patient Activation, ForwardFast Branding, N-of-8, and Customer CHEMistry. I've also contributed to motivational books, Living in the Now and Alone In My Universe. Plus, I've designed a series of inspirational creative journals.

I have received the Brand Leadership Award from the Asia Brand Congress for global marketing efforts. I was included in the PharmaVoice 100 Most Inspiring People in the Life-Sciences Industry

My wife, Jenny, and I have five children, a golden retriever, and a stray cat. We live in beautiful Boise, Idaho.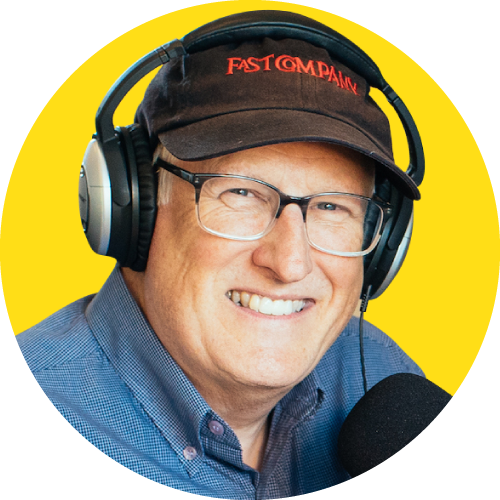 Share an experience that has shaped who you are today.
My career in marketing, communications, and branding spans almost 40 years. I am founder and principal of Bioscience Bridge, LLC. I also serve as a brand strategy consultant for 83bar, LLC.

Previously, I was senior vice president of brand strategy at GSW. My career includes positions as president of a global brand consultancy, president and chief creative officer of an independent healthcare communications firm, and managing partner of an Omnicom medical ad agency.

The job I that shaped my business life was being a paperboy for 7 years in junior high and high school.
Tell us about your podcast audience.
In more than 200 episodes, we've attracted a global audience -- in fact, we often rank in markets around the world like Kenya, Netherlands, Sri Lanka, and Sweden.
What makes your podcast unique?
My podcast, Unlocking Your World of Creativity, is about taking action with your ideas. We discuss these topics: - How to tap into your most original thinking - Inspiration from your own experience - Specific tools, exercises, and formulas to organize your ideas - Most of all, how to make connections and create opportunities to produce creative work. Specifically, we will talk about your creative process and work.
BONUS: Built To Last" Panel Presentation on "Conscientious Innovation"
Welcome back. I'm Mark, and today I'm bringing you a special bonus episode of "Unlocking Your World of Creativity" direct from Oslo, Norway, where I'm diving into the fascinating world of conscious brands during Oslo Innovation Week.
In this illuminating session titled "Conscientious Innovation," hosted by the Medinge Group and organized by the Oslo School of Architecture and Design (AHO), we explored how innovation, sustainability, and creativity intertwine to make the world a better place.
The first 3 distinguished panelists of the morning led us on an eye-opening journey:
Christian Lodgaard: As the Chief Design Officer of Flock, one of Scandinavia's largest furniture manufacturers, Christian delved into the concept of designing products to last. He emphasized the significance of considering materials, structure, and repairability right from the start. The goal? To create furniture with lasting value and minimal environmental impact.
Brigitte Stepputtis: The Global Head of Couture at the fashion brand Vivienne Westwood, revealed how this fashion icon leads the way in conscious design. Vivienne Westwood's reduced impact strategy includes fewer collection changes, fewer fashion shows, and streamlining product lines — while even exploring the repurposing of bridal gowns.
Joana Sá Lima: Joana, a partner and architect at Comte Bureau, introduced us to the idea that sometimes the best decision is not to build anything new at all. She highlighted innovative ways to rethink construction materials, design, and waste reduction. Asking the right questions, she argued, can lead to surprising and sustainable solutions.
Taken together, hese panelists illuminated some key takeaways:
1. The Art of the Possible: Concrete examples showed us what's achievable in the realm of conscientious innovation, dispelling the notion of mere theoretical ideas.
2. Defining Circularity: They provided a clear picture of how individual brands and products can embrace circularity, pinpointing where improvements can be made.
3. Empowering the Consumer: Educating customers about their choices can steer them toward more sustainable options, fostering informed decisions.
Stay tuned for more updates from Oslo Innovation Week as I continue my exploration of global creative and innovative endeavors. I'm Mark, inviting you to join me on this inspiring journey of unlocking creativity.
Search Results placeholder