I am an Actress and Host of Mentors on the Mic podcast. My credits include Homeland (SHOWTIME), Blue Bloods (CBS), One Bad Choice (MTV), and the feature film Winter's Tale. I have also been in Commercials and Off Broadway. In addition to hosting my podcast, I also teach Communications skills including Public Speaking, Storytelling, On Camera Presence, and Interview training.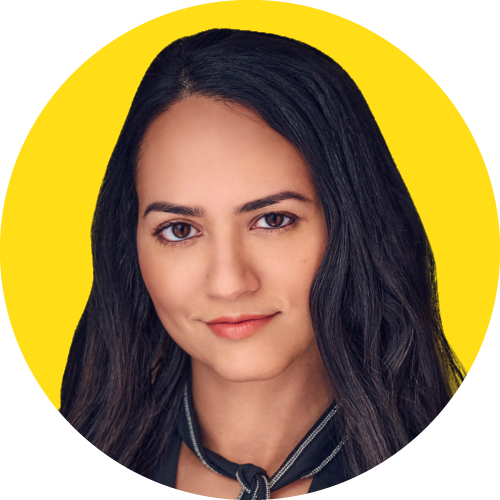 Share an experience that has shaped who you are today.
In May 2020, amid all of the fear and anxiety of the pandemic, I distracted myself with the question "what have I always wanted to do but never felt like I had time for?" The one word answer came to me quickly: "podcast." I had helped a couple of Mentors create their podcast a year or so before, but never felt like I had an idea or platform to create one of my own. I started with asking a friend in the podcast space, Jackie Collier, for her advice and she was kind enough to send me a book called So You Want to Start a Podcast by Kristen Meinzer. I spoke to another friend about a virtual event I had recently created for my alma mater, Brandeis University. He helped me formulate my idea for the podcast, a place where I could interview mentors in the industry, specifically focusing on what I was curious about: how did these Mentors start and move up to where they are today. I asked Jackie to be one of the first guests on the podcast, along with the guests in that original Brandeis panel. I joined podcast communities through facebook and one kind podcast host taught me how to edit my audio over zoom. I realized that when there is a desire and one person you could turn to for help, it creates a chain reaction of support and resources. My podcast wouldn't be here without the support of all of these people, without all of those Mentors who agreed to come on. Inadvertently, I had started tapping into this community that I didn't even know I had. I try to remember this idea whenever a new intimidating desire sprouts or things feel overwhelming.
Tell us about your podcast audience.
My audience is comprised of people in their 20s and 30s who want to start in the industry or wish to move up. They expect to hear wisdom and advice from different people in the industry. I have a lot of actors, writers, and producers who are not sure how to start or get ahead. This podcast allows them to find a Mentor that they could look up to and learn from. Some people aren't sure what roles even exist in the industry. Mentors on the Mic podcast not only share stories and advice, but people learn from the Mentor's mistakes and failures. Some of the Mentors will even help out some listeners by reading their scripts and providing feedbacks, discussing internships and how to get ahead, and/or help them pitch bigger industry executives.
What makes your podcast unique?
I am an Actress and Host of Mentors on the Mic podcast. I interview incredible people in the Entertainment industry about how they started and how they moved up. My guests include Showrunner and Co-Creator Marta Kauffman (Friends, Grace & Frankie), Actor/Director Tony Goldwyn (Scandal), Writers, Producers, Agents, and more. I also create bonus episodes that help those in the industry with practical skills and tips. The community I am building is a mixture of Mentors and Mentees who want to help each other get ahead.
Mini-Series: Social Media Insights: Q&A Session with Expert Heidi Dean on Content, Branding, Analytics, and Networking (Part 4/4)
Ready to elevate your social media game? Join us for an enlightening session with Heidi Dean, a master of social media strategy, as we uncover the secrets to crafting an irresistible online persona.
In this engaging episode, we're diving into your most pressing questions:
How can you build a compelling brand on Instagram? Heidi shares practical steps to showcase your unique identity.

What is Heidi's process? How did she start her social media profile without a team?

Mastering the art of a captivating first impression: bio optimization, highlight bubbles, and hashtag strategies.

What's the ideal posting strategy? Heidi reveals tips for keeping your audience engaged and coming back for more.

Achieve networking excellence: Explore collaboration, engagement, and strategic growth while nurturing valuable connections.
But wait, there's more! Heidi Dean opens her digital playbook:
Behind the scenes: Heidi's content creation journey from a one-person operation to a well-coordinated team.

Repurposing magic: Discover her step-by-step process for tailoring content across different channels, from blogs to TikTok.

Decoding analytics: Gain insights into Instagram analytics, watch time, audience retention, and more.

Essential tools of the trade: Heidi reveals her favorite apps for crafting standout content.

Engaging your audience: Should you speak directly to your followers or ride the trend wave? Heidi shares her winning approach.

Networking like a pro: From casting directors to writers, learn Heidi's tips for building authentic connections online.
Uncover a wealth of social media insights and supercharge your online presence. Tune in to this episode and embrace the digital spotlight with confidence!
Heidi Dean is known as the industry's top social media strategist for actors and the creator of Marketing4actors.com. She's a social media writer for Backstage Magazine and a frequent speaker at film festivals, SAG-AFTRA, AEA, conferences, podcasts and universities across the country. Her clients include Emmy Award-winners, Broadway stars, series regulars, directors, producers, casting directors and voice actors. Heidi turns social media rookies into ROCKSTARS!
Guest:
30 Days of Post Ideas for Actors (for free): ⁠⁠⁠⁠
⁠https://www.marketing4actors.com/30posts⁠⁠⁠
Instagram: ⁠⁠⁠@Marketing4actors⁠⁠⁠
Youtube: ⁠⁠⁠https://www.youtube.com/@heididean⁠⁠⁠
Host:
Instagram: ⁠⁠⁠⁠⁠⁠⁠⁠⁠@MentorsontheMic⁠⁠⁠⁠⁠⁠⁠⁠⁠⁠⁠⁠⁠⁠⁠⁠⁠⁠@MichelleSimoneMiller⁠⁠⁠⁠⁠⁠⁠⁠⁠
Twitter: ⁠⁠⁠⁠⁠⁠⁠⁠⁠@MentorsontheMic⁠⁠⁠⁠⁠⁠⁠⁠⁠⁠⁠⁠⁠⁠⁠⁠⁠⁠@MichelleSimoneM⁠⁠⁠⁠⁠⁠⁠⁠⁠
Facebook page:⁠⁠⁠⁠⁠⁠⁠⁠⁠ https://www.facebook.com/mentorsonthemic⁠⁠⁠⁠⁠⁠⁠⁠⁠
Website:⁠⁠⁠⁠⁠⁠⁠⁠⁠ www.michellesimonemiller.com⁠⁠⁠⁠⁠⁠⁠⁠⁠ and ⁠⁠⁠www.mentorsonthemic.com⁠⁠⁠
Youtube: ⁠⁠⁠⁠⁠⁠⁠⁠⁠https://www.youtube.com/user/24mmichelle⁠⁠⁠⁠⁠⁠
⁠⁠⁠Click here to join our Mailing list.⁠⁠⁠⁠⁠⁠
If you like this episode, check out:
—
Support this podcast: https://podcasters.spotify.com/pod/show/michelle-miller4/support