Hi my name is Wil Otero but I go by Wize. Born and raised in ENY Brooklyn and now reside in the beautiful Pocono Mountains in Pennsylvania. I was widowed at the age of 31 and suffered many major losses in the years that followed. I spent many years being self destructive and angry with God, spirit or whatever you might call it. I awoke one morning and realized I needed to seek help because I didn't wanna live like that anymore. I finally realized that I was angry with circumstances that I had no control over. When I finally started receiving the help I needed my life start t5o change for the better. In 2013 I met an amazing woman and got remarried, I also started my career as a table games dealer. In March of 2020 I was furloughed from my job and started Stuck In My Mind Podcast. Since starting my podcast I have recorded close to 300 podcast episodes.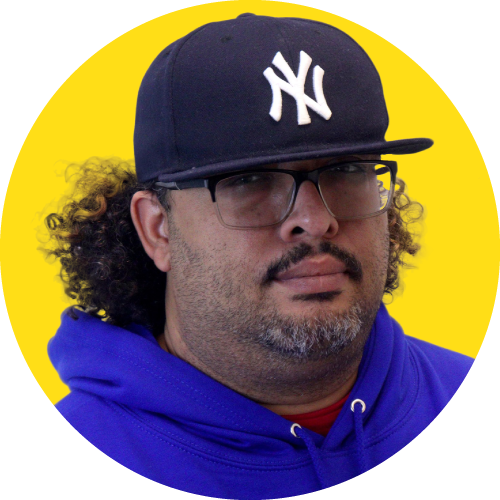 Share an experience that has shaped who you are today.
In 2008 I lost my wife in a single car accident and the following year after 25 years of not knowing about my father my sister found me on Facebook and reunited us only to lose him that Fathers day weekend after we reconciled. The next few years were brutal because I lost an aunt and uncle that help mold me into the man I am today. I also lost 2 brothers, 1 to HIV and the other to a drug overdose. I've been able to turn my life around and find my passion Podcasting.
Tell us about your podcast audience.
My audience is loyal and has help me grow my podcast by sharing my content and being supportive of everything I do. A great story that will inspire them. Authentic content
What makes your podcast unique?
My podcast is about having some great conversations with everyday people and giving them a platform to share their story. Self development, entrepreneurship, mental health and various other subjects.
EP 204 Overcoming Adversity: A Journey of Resilience and Triumph with Daniel MacQueen
In this captivating episode of the "Stuck In My Mind Podcast," host Wize El Jefe sits down with the inspiring Daniel MacQueen, a remarkable individual who has navigated the depths of adversity and emerged stronger than ever. Daniel's story is one of resilience, triumph, and the limitless power of the human spirit. Recounting his arduous journey, Daniel highlights how he was able to rebuild himself gradually with the support of others. Motivated by a burning desire to assist those who may lack the same level of support, Daniel passionately shares his experiences and offers a guiding compass for those facing their own struggles. A key theme that runs through the conversation is the incredible power of mindset. Daniel firmly believes that it's not what happens to you but how you respond to it that shapes your destiny. By adopting this empowering mindset, he maintains that anyone can navigate any challenge and emerge victorious from the most difficult situations. Changing one's perspective is a central idea Daniel puts forth. He explores the concept that altering our viewpoint can lead to significant changes in how the world responds to us. He elucidates how something as simple as shifting our mindset can have a profound impact on our ability to overcome obstacles and achieve our goals. Daniel underscores the crucial role of mental strength in the recovery process. While acknowledging the limitations of recovery for individuals with brain injuries, he emphasizes the importance of taking care of one's mind through practices such as meditation, exercise, and self-building. Drawing from his own transformational experience, Daniel attributes his progress to immersing himself in a positive mindset and unwavering belief in his own abilities. The conversation also delves into the inherently unfair nature of life, with Daniel sharing personal losses he has endured, including the death of his wife and the passing of his father, brothers, and uncle. However, rather than succumbing to bitterness or self-pity, Daniel chooses to confront these challenges head-on, understanding that life's hardships do not define him. He implores listeners to question societal expectations, prompting introspection about what should be expected when nothing like his experiences has ever happened before. Throughout the episode, Daniel draws upon his own traumatic experiences and highlights the stories of other remarkable individuals who have faced similar challenges. In doing so, he invites listeners to tap into their own reserves of strength, resilience, and hope. His talks at rehabilitation centers, aimed at inspiring those transitioning back into the real world after therapy, focus on the themes of perspective, hope, and resilience. He emphasizes the importance of adapting, trying different approaches, and continuously refining our efforts until success is achieved. Daniel's desire for continuous growth and improvement is evident throughout the conversation. He discusses employing "hacks" in his daily life, recognizing that small actions can accumulate over time, leading to substantial results. Additionally, Daniel shares a poignant anecdote about a documentary he watched, where a prominent figure grew bitter and jaded towards past opponents and critiques. He expresses his determination not to let resentment consume him as he ages and to transition his motivation towards helping others and offering service. Raised with a perpetual chip on his shoulder, Daniel's journey has been fueled by a fierce determination to prove others wrong and rid himself of insecurities. However, as he confronts setbacks and embraces the statistical improbability of his own existence – one in 400 trillion – Daniel's perspective shifts. He realizes that his driving force now lies in assisting others on their journey, demonstrating that they too have the strength and capability to rise above their adversities. This episode of the "Stuck In My Mind Podcast" is a powerful testament to the triumph of the human spirit. Daniel MacQueen's unwavering resilience, coupled with his transformative mindset, offers a guiding light for anyone facing adversity. Listeners will be inspired to reevaluate their own perspectives, embrace challenges head-on, and harness their inner strength to overcome any obstacle in their path.
Search Results placeholder