Lucia Nazzaro is an Emmy nominated storyteller, educator and expert. She works to create stories and solutions to help individuals & society find their story of well with a special focus on how we can rise and comeback from adversity and issues that challenge the human spirit. A lover of questions, conversations and solution focused stories and tools, she also is Chief Seeker and Founder of WellSeekers, a company and content dedicated to a holistic approach to mind, body and spirit health, offering content, stories and solutions focused on REAL ways to live authentic and well.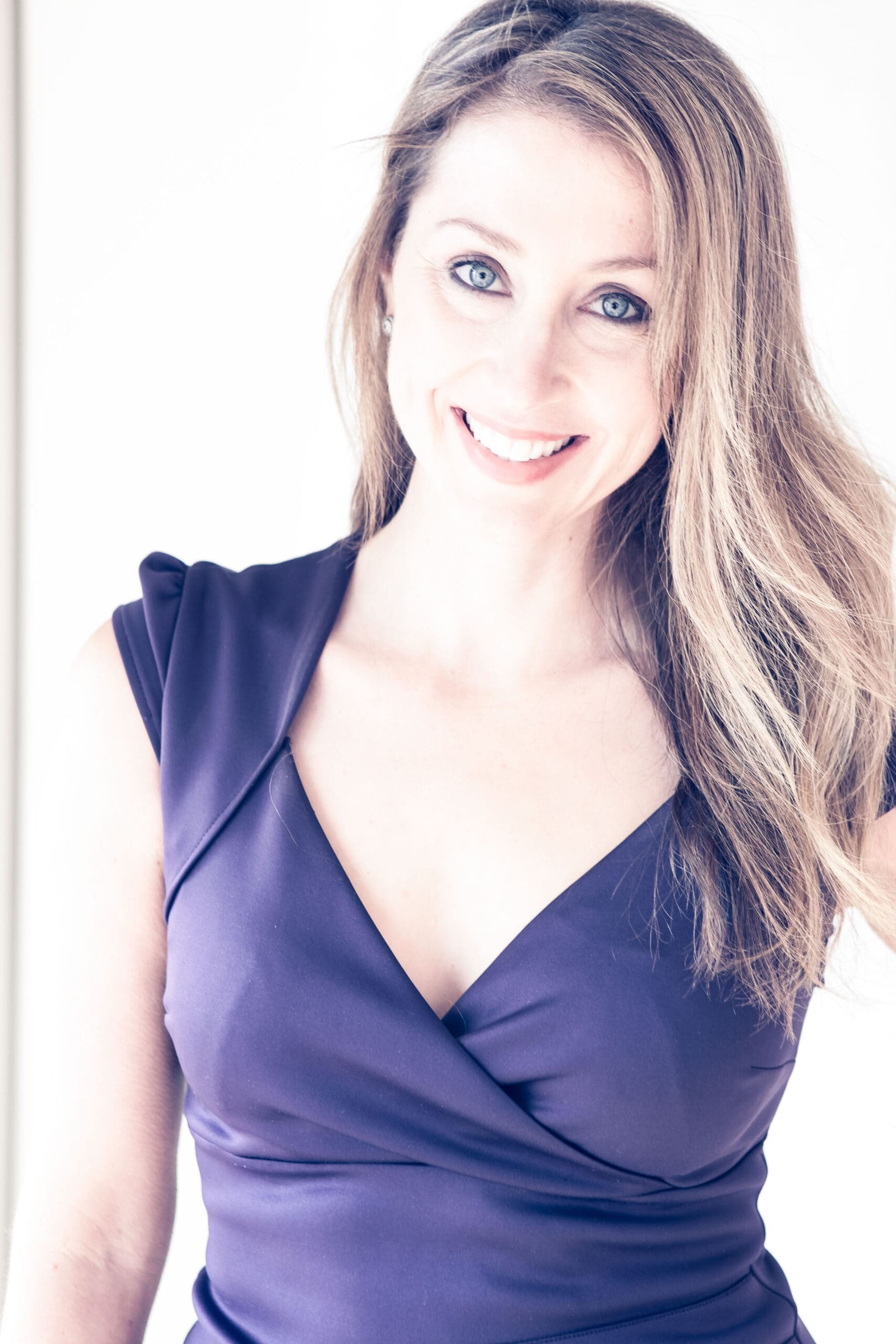 The site, WellSeekers.com, is home to both the flagship show "WellSeekers with Lucia" which talks about prevention, healing and growing in many areas of mental, emotional and social health & "
[email protected]
", which focuses solely on relationships, loving yourself and others more well in an intimate and personal environment. She also is a contributor and creator for many national media sites and shows. All of Lucia's work focuses on the realness and struggles of life and how we can live life well and let our lights shine through whatever comes our way. Lucia maintains an undergraduate degree from the University of New Hampshire, a Master's degree in Media Arts from Emerson College, as well as a Master's degree from Boston University's Graduate School of Clinical Social Work with a focus in psychotherapy and social issues. These three degrees and professional experience have provided her with a strong foundation in storytelling, social impact, interpersonal communications and relationships. Her specialty positions her as an important influencer and change maker to media-driven conversations and on issues pertaining to mental/emotional health and social issues. Further professional experience and training as a professor, speaker and therapist has allowed Lucia to bring a multidimensional approach to her work in both media as a contributor, host and creator and in her consulting work as well.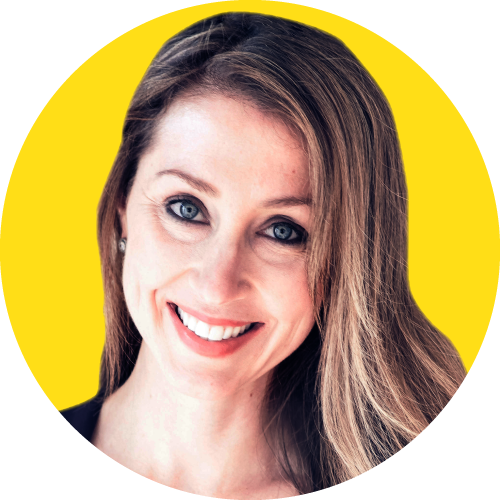 Share an experience that has shaped who you are today.
As one of the founders of this mission, I can tell you I have been right where you are in your journey. I have had days where life tossed me major curve balls that challenged my health and wellbeing. In those times instead of being compassionate, nurturing my own self care and looking for support, I relied on old habits to try and support my mental and emotional state, that were anything but healthy. However, through one on one work, education and hearing other people's stories, I personally and professionally have seen transformation occur on the micro and macro level, and know that change is possible for you.

While this site and show alone and the content and tools will not solve all your problems, it will most certainly provide you with tangible ways to make your mind, mood, body and holistic wellbeing brighter and a whole lot more well. It can help you heal, grow and celebrate life in healthy ways and it will challenge you to re-write your story of the past, present and future! It took me decades of personal research and professional studies to finally find some real answers to wellness and changing the way I saw life and I truly want to pass those stories and solutions on to you as we embark on this journey together!

We are so often told health is an outside job, but it's not. It's an inside one. We are so often told we can do things alone, but we can't. We need people. That is what we are here for at WellSeekers. community, connection and compassion. Life can make it difficult to get well, but we want to change that, and provide the information you need to make changes, to write and re-write your stories and to celebrate, nurture and heal. I know from experience how hard it is to take time for yourself, but I also know from experience…it's worth it.

From my own professional career, from an early age I expressed my stories with music going on to play in some of the most well known venues in New York, Las Vegas, LA and all over New England, recording with Grammy award winning producers and having my music placed in Tv and films, before changing my microphone out from the stage to the airwaves. When I was on air, first at iheart, and then nationally, I tried to create a place where all sorts of people celebrities, community members, and my listeners felt like they were at home. Whether I was on a red carpet or back stage, I knew it didn't matter, what mattered was the story and the people I was with. From there my journey took me to TV, where I got a few Emmy nominations for hosting primetime on the CW, before sharing more stories nationally that focused on all things Good News. Through it all though, I felt like not only did I love sharing stories, but helping finding solutions, which now is my goal with this show and all the shows I produce.Dave works in marketing and I work in education so naturally, we're both very people-oriented people. As an educator, I love information and I love telling people information that I find interesting or intriguing. Naturally, the podcast is sort of an extension of that. Over the years in teaching, I've seen how interesting information can really connect people. We both love conversations, but really conversations that you learn from. Commute makes sense when you connect these factors, we're making the show ultimately because we both love watching ideas unite people together in conversation.
Tell us about your podcast audience.
Our podcast audience are people trying to find support, stories and solutions to an audience aged 18-54, with a primary base of 24-34 years old who are trying to rise and comeback to a mind and life they love.
What makes your podcast unique?
WellSeekers with Lucia is all about defining what it REALLY means to live life well and providing simple and accessible REAL LIFE wisdom, stories and solutions for anyone striving to form a better relationship with themselves and others. The perfect spot for anyone who wants to change and enhance their life story and live life more happy, healthy and whole. WellSeekers is a podcast that will not only provide fun, simple and informative ways to connect with better living and a community; a Seekerhood of people trying to heal, grow, shine and give back to others in this one crazy life. It also is going to provide you with thought provoking and game changing conversations on what living life well REALLY means. One podcast at a time we will make your life, our culture and the world a whole lot more well. You got this and we got you! Welcome to WellSeekers!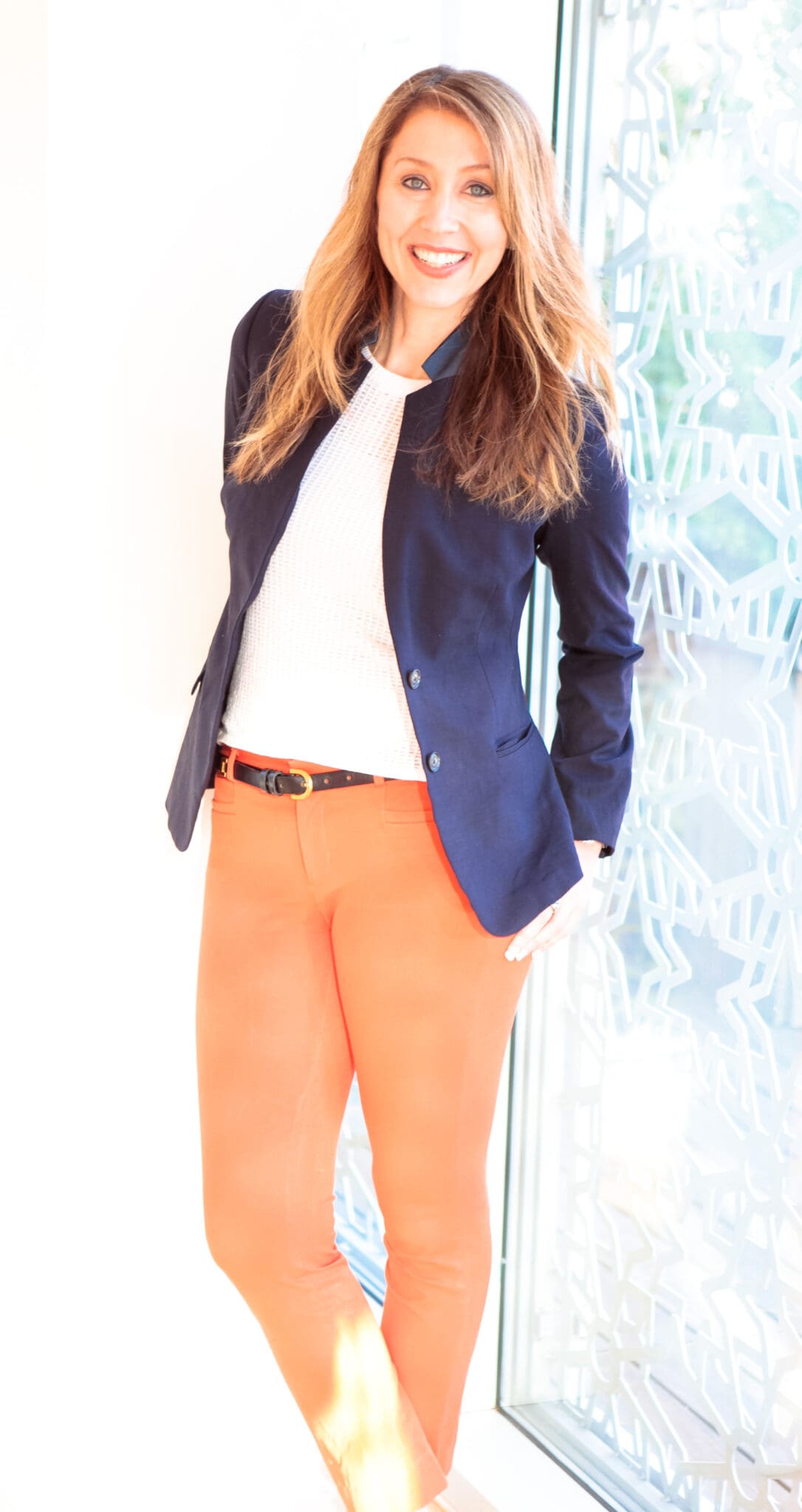 The Power of Shared Experiences Living with Cancer: You Are Not Alone!
Welcome back to WellSeekers as we finish up our five part series focusing on cancer. In this series, we'll share inspiring and powerful conversations full of encouragement, hope, wisdom, touching personal stories, and most importantly real world solutions; all from a holistic perspective. We'll talk with professionals and friends of the show on what it's like to hear those words "you have cancer", real life and practical wisdom and solutions for supporting those diagnosed and living with cancer, support for caregivers, and their heroic kind and self-less acts. So join us on this extraordinary series as we want to help you grow and thrive in the face of a cancer diagnosis if you've been diagnosed with cancer, are living with cancer, know someone dear to you with cancer, or want to prevent this fast growing, deadly and sometimes chronic disease.
On today's show we welcome back Krista Lawrence, a mom, dear friend, fierce advocate and someone living with stage IV Metastatic breast cancer. Krista offers words of wisdom, comfort, and knowledge that comes from her own experiences with this incurable disease. According to the Susan G. Komen Foundation, Metastatic Breast Cancer, also known as Stage IV cancer, is not a specific type of breast cancer, but rather the most advanced stage of breast cancer that has spread to other organs in the patient's body. It is also known as the least understood type of cancer and has no cure. We also talk about why we understand so little about this disease, and how through adversity she uncovered her own secret to life.
Getting a cancer diagnosis and living with cancer can make us feel alone, lonely, and isolated. But it doesn't have to! Join us today on WellSeekers with Lucia for an inspiring and uplifting conversation you won't want to miss, that reminds us of the power of knowing there are others who are experiencing what you're going through in that moment, and that you are not alone.
—————————————-
WellSeekers with Lucia is a podcast exploring how to find your own story of well from the mind down focusing on holistic mental and emotional health, relationships, and wellness topics.
Lucia Nazzaro, MA, MSW, LCSW, is an Emmy nominated multi-media storyteller, professor and expert. She works to create ways to help individuals & society find their story of well with a special focus on how we can rise and comeback from life transitions (both considered positive and negative), relationship issues, and issues that surround the human condition and ways to thrive in the face of adversity and challenge.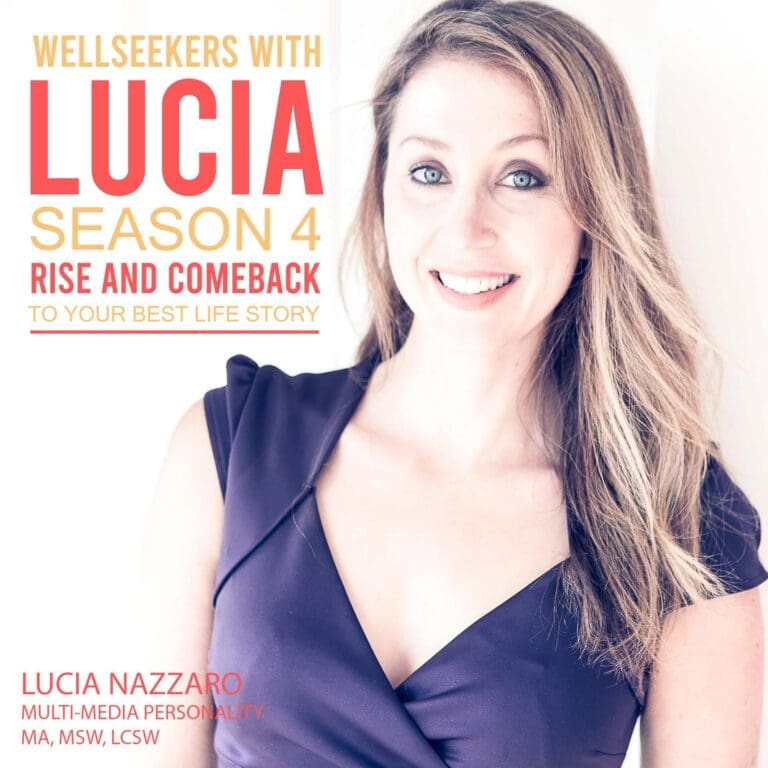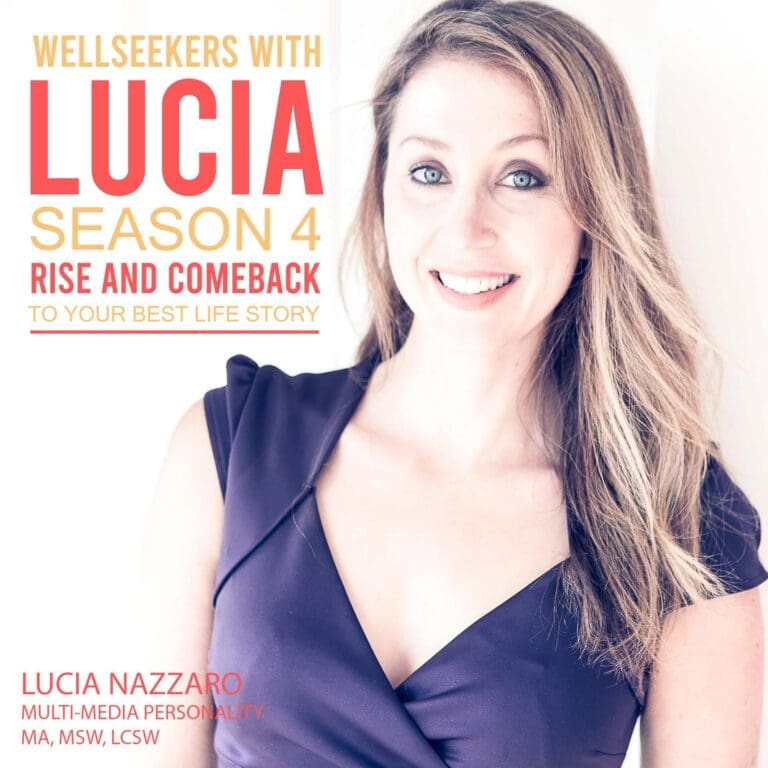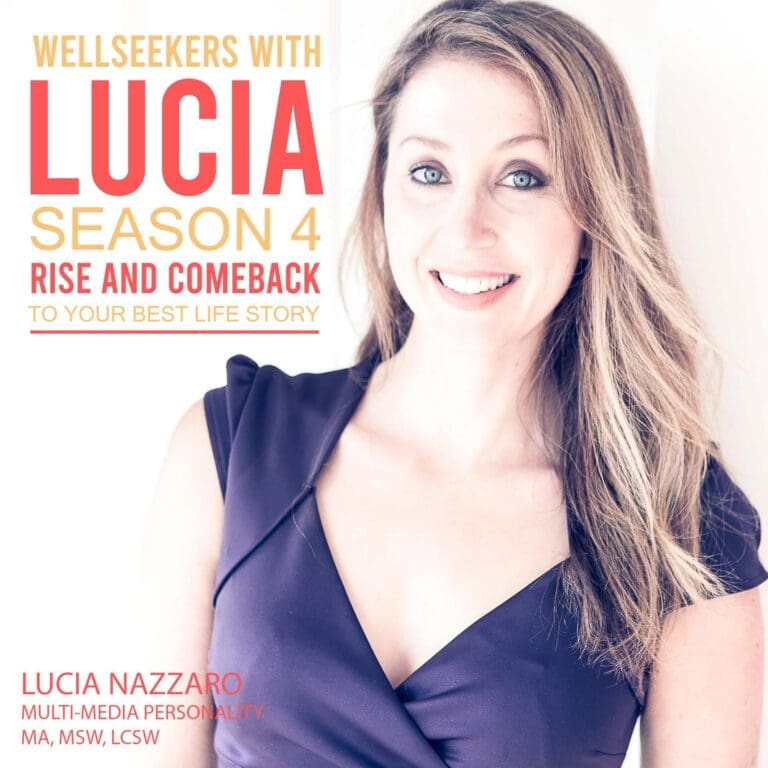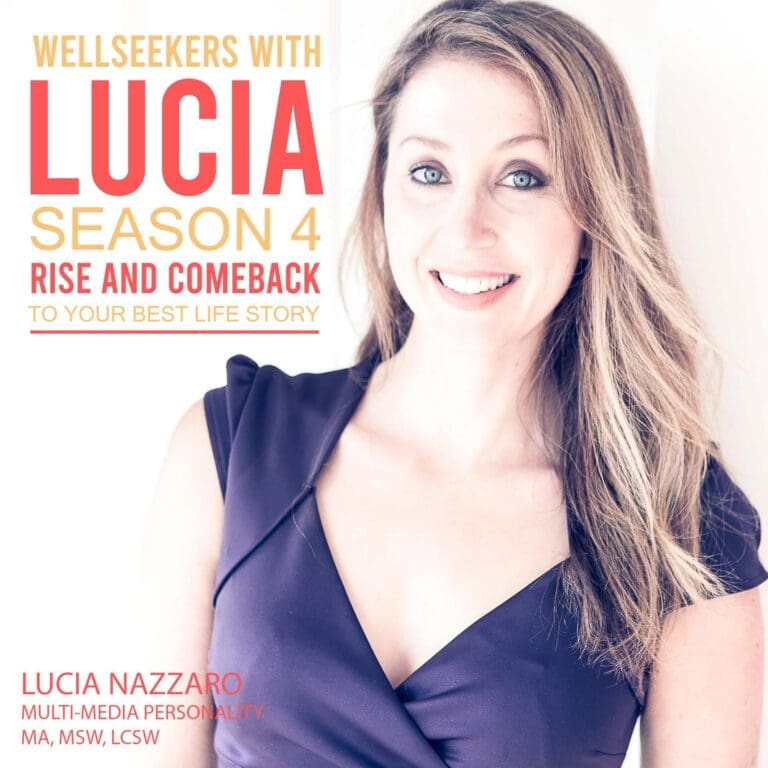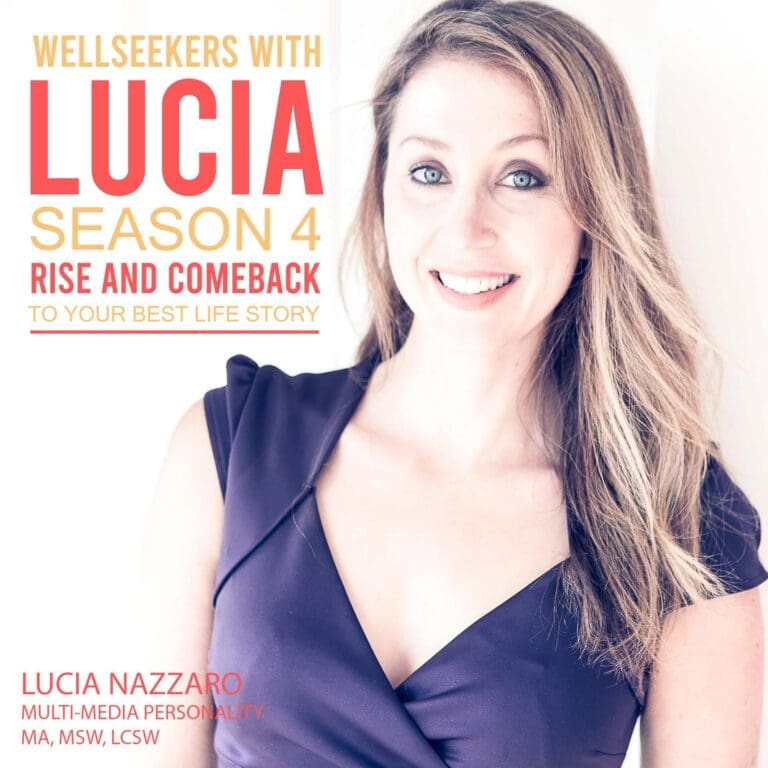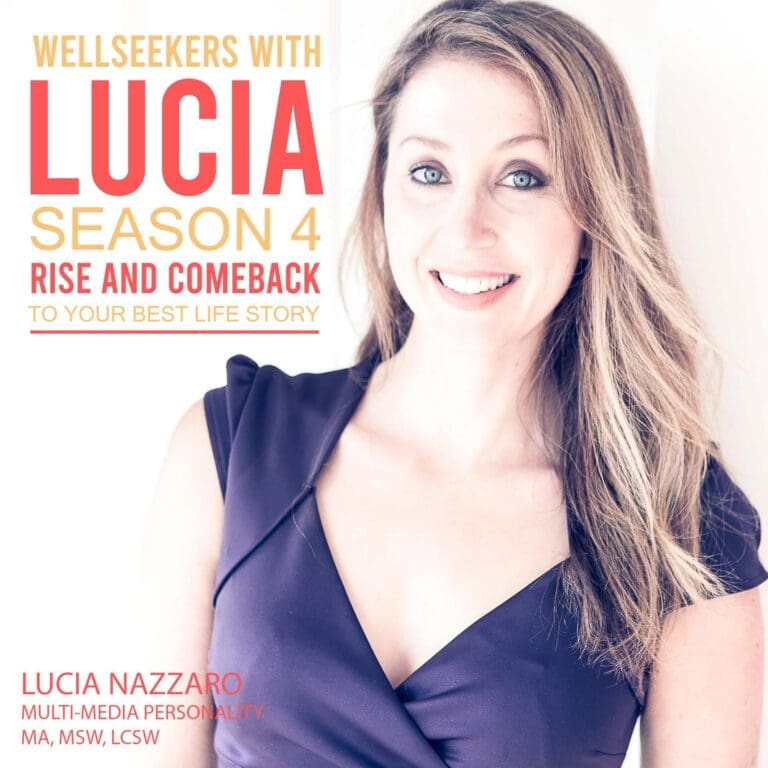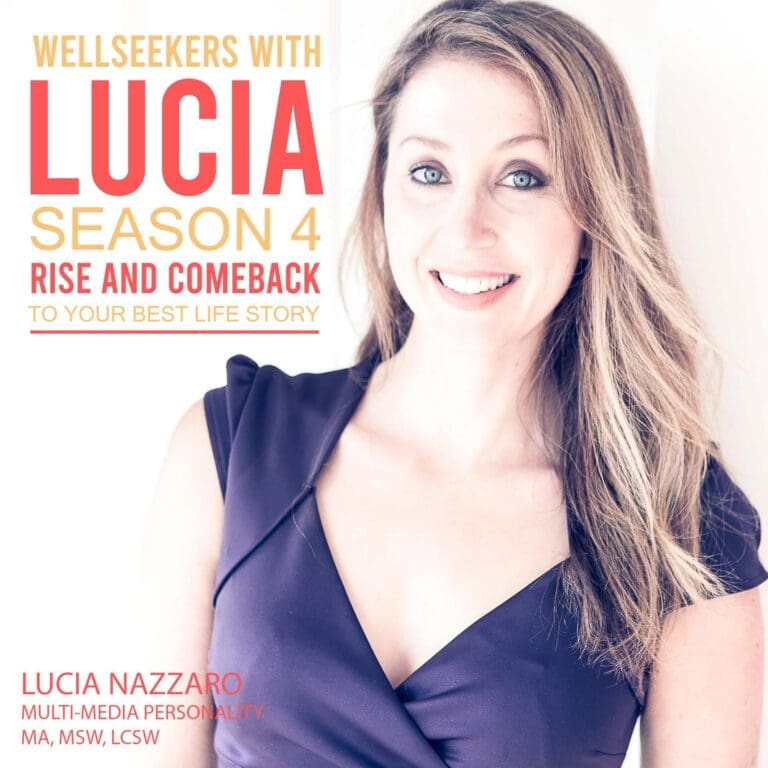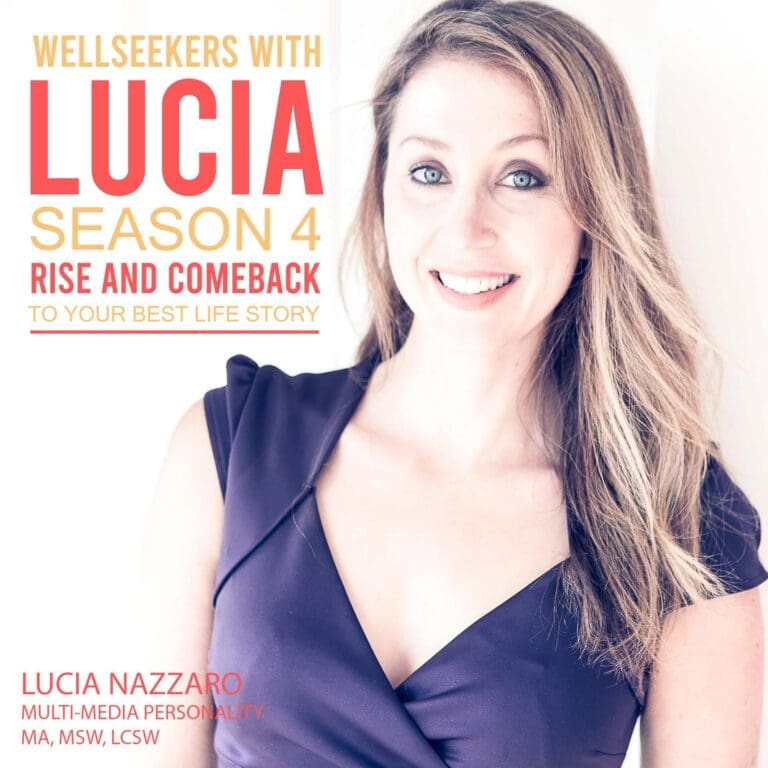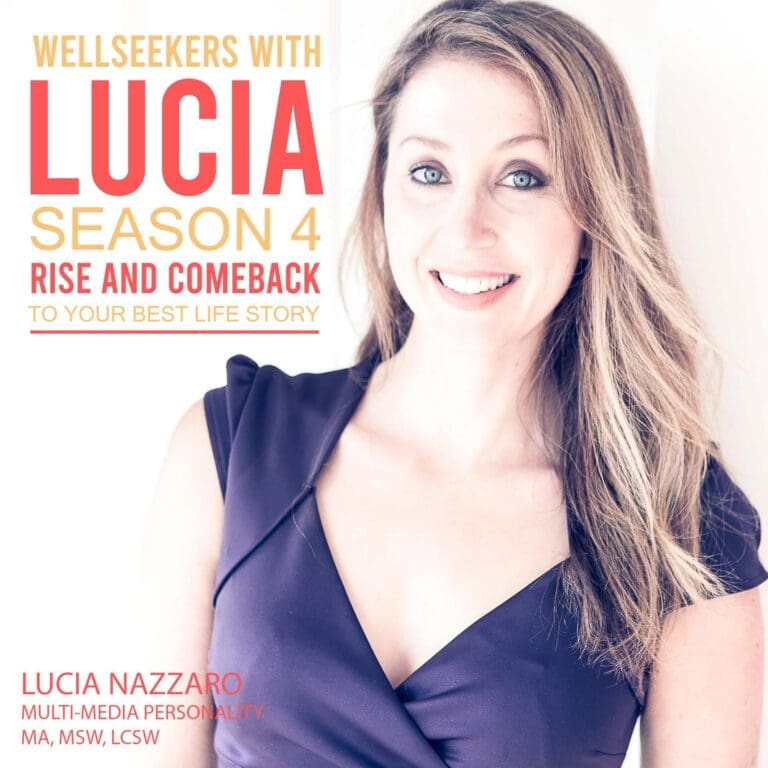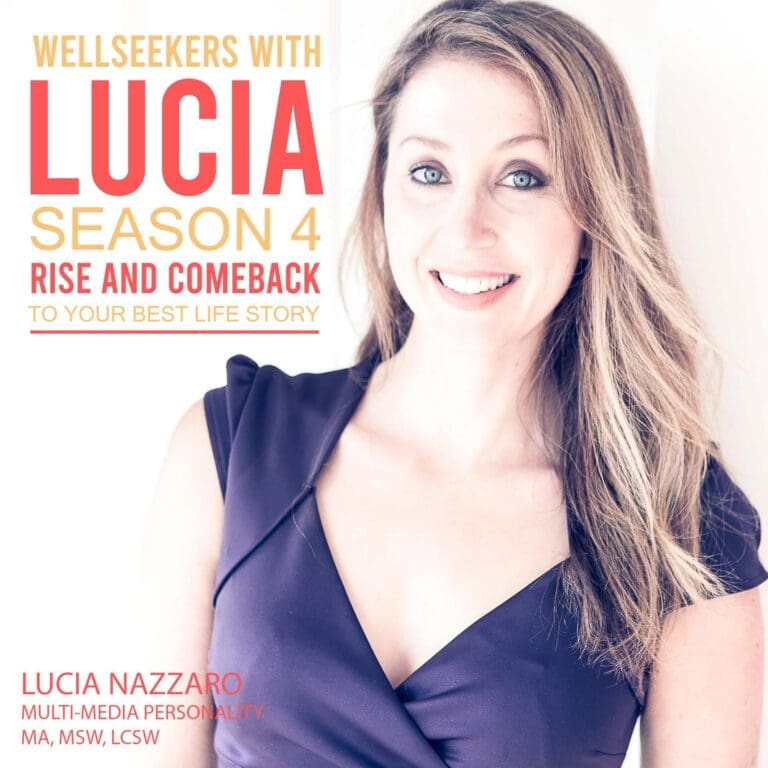 Search Results placeholder